Moving into a new home is an exciting task. It's a new beginning full of design and decor choices, including window decor. However, window treatments are more than just beautiful accents — they're also about functionality. Choosing the best window treatments for your new home can provide you with sun protection, privacy, energy efficiency, comfort and style.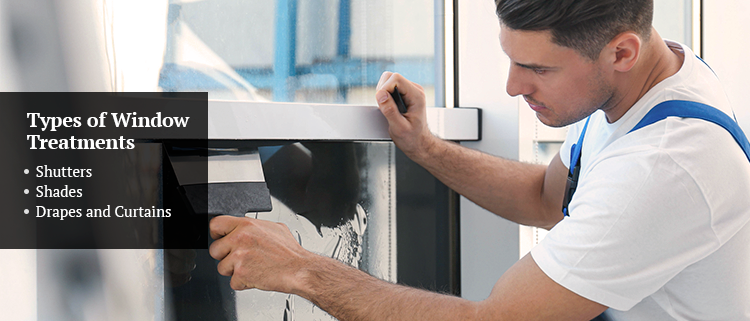 Types of Window Treatments
Both purchasing or building a new home give you the opportunity to create a space with your own unique style. When furnishing and decorating your new home, window coverings are an important part of its design and function. There are many styles, colors, materials and sizes to choose from within the following window treatment types:
1. Shutters
Shutters are versatile window treatments that can open fully or slightly for your desired coverage. Shutters can provide sunlight coverage, insulation and privacy. They can come in PVC materials or wood in different colors or stains. Purchasing shutters for your new home is a great way to add stylish window coverage.
2. Shades
A shade is a single piece of synthetic material or fabric that can be raised or lowered with a cord, and they provide various levels of coverage. Styles include pleated, cellular, woven wood, Roman and outdoor shades. Since they open and close with a single cord, you can quickly transition between privacy and enjoying the outside view.
3. Drapes and Curtains
Drapes and curtains are fabric panels often sold in pairs. Drapes are typically solid-colored, heavily lined and long enough to reach the floor from the top of a window. Curtains come in a variety of fabrics, colors, patterns, widths and lengths. Drapes often provide heavy window coverage while curtains can provide many degrees of coverage, including sheer to room darkening.
Benefits of Window Treatments
Choosing the right window treatments for your personal style and needs can have many benefits. Here are several reasons why window treatments go beyond just blocking out the sun.
1. Design
Each design element you add to your home contributes to your overall aesthetic, which can include one or all of the following themes:
Traditional: Traditional homes feature dark wood tones combined with ornate fabrics and patterns for a classic look.
Modern: Modern homes focus on simple, clean lines.
Mid-century modern: Mid-century modern homes combine unique colors and organic shapes for a retro aesthetic.
Contemporary: Contemporary homes feature current design elements and trends.
Transitional: Transitional home design combines modern, traditional and contemporary design elements.
Industrial: Industrial home design combines old design elements, such as exposed brick or wooden beams, with modern elements.
Minimalist: Minimalist home design is made up of few details and a simple color palette.
Scandinavian: Scandinavian home design focuses on natural elements and white color palettes.
2. Privacy
Choosing the right window treatments can also help you achieve your desired privacy. Your optimal privacy amount will depend on where your house is located, your proximity to neighbors and in which rooms you're adding window treatments.
Consider where your home is located. If you live in a second-floor apartment, privacy may be less of a concern. However, if your home is at the street level, almost anyone is able to walk past and see inside your windows.
Your home's proximity to neighbors is another factor to consider. Privacy may be less concerning if you have significant space between your home and your neighbors, but if your home is close to others, you may want a little more coverage. More coverage is a great choice for street-facing windows, but you can choose sheer options for your windows facing the backyard or other private areas.
Adequate window treatments can provide the privacy you need.
3. Function and Durability
Sun exposure: Window treatments can help to protect you, your floors and your furniture from harmful ultraviolet (UV) rays. However, some window treatments can also help you to allow more natural light into your home. Natural light can have a positive effect on mental health, and it can add a beautiful aesthetic to any room.
Temperature and efficiency: Most homes lose approximately 30% of their heating energy through windows, and about 76% of the sunlight that reaches windows enters the house as heat. This can increase energy bills and decrease comfort. Window treatments help your house retain heat during cold seasons and minimize heat during warmer seasons.
Durability: Choosing the right window treatments can save homeowners money over time because durable materials will last longer.
How to Choose Window Coverings
When deciding whether to choose drapes, shades or window shutters for your new house, you need to consider your windows and rooms. To achieve the aesthetic and functionality you desire, think about the following factors as you select window coverings for your new home:
1. Window Types
Looking at your window sizes and shapes can help you determine which type of window coverings are best for your home. While drapes look best when they hang from tall and wide windows, shades usually look best on small windows and windows that are built high off the floor. Multi-sectional windows look appealing with shades or drapes.
2. Consistency
To ensure your window coverings complement your overall house design, it's important to remain consistent. Try to choose similar window coverings for all of your rooms. You can maintain consistency by choosing similar colors, pleat styles or hardware choices. Think about how your window coverings will match throughout the inside and outside of your home.
It's more aesthetically pleasing if the windows on one side match the windows on the other side, so you should try to style your front-facing windows so they match. If you choose drapery for your living room that faces the front of the house, try to also choose similar drapery for your kitchen windows or other rooms that face the front of the house.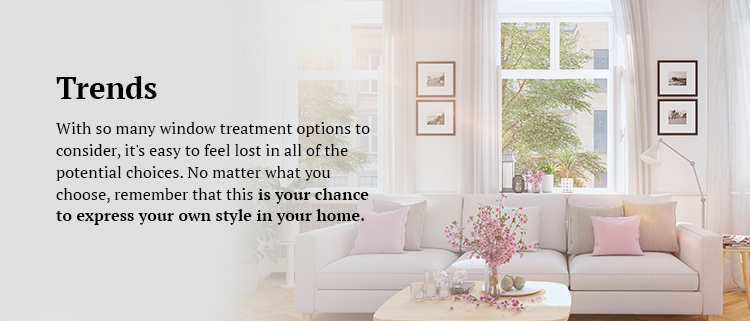 Top Window Treatment Trends
With so many window treatment options to consider, it's easy to feel lost in all of the potential choices. No matter what you choose, remember that this is your chance to express your own style in your home. To get started, you can consider the following window treatment trends:
1. Wood Shutters
Wood plantation shutters are both stylish and durable. With stationary slats that rotate to open or close, they can provide your desired amount of natural light or full shade and privacy. Since they are made of solid wood, they are long-lasting, easy to clean and fade-resistant. Wood plantation shutters are great window coverings for new homes and old homes alike that need help with energy efficiency.
Wood shutters also come in durable PVC material. PVC plantation shutters are moisture-resistant, so they're a great choice for rooms with wet environments, such as bathrooms, kitchens, patio areas and garages. This option looks just as great as the wood version.
2. Roman Shades
Roman shades are soft, vertical window coverings made of cloth. Roman shades are flat and smooth in the closed position, and when they are in the open position, the fabric collects and stacks in stylish layers. Different fabrics offer various levels of light filtration. If you are looking to pull in more natural light, semi-transparent shades are a great choice. However, if you prefer more privacy, you will want to choose room-darkening Roman shades.
3. Woven Shades
Woven shades are made of bamboo, grass and reed. Their warm and inviting organic appearance makes them perfect for any home with a natural aesthetic. You can easily raise or lower them with a simple cord, which makes it easy to filter light and maintain privacy. Crafted with renewable resources, woven shades are durable and eco-friendly.
4. Cellular Shades
Cellular shades, also known as honeycomb shades, are great for both function and style. Their clean, sleek look allows them to match a variety of designs and styles, and they provide quality insulation. Cellular shades are designed with a honeycomb construction that traps air to guard against cold and hot temperatures. Some cellular shades even have double or triple-layer cell shades for increased insulation. They also absorb sound, so they're a great option if you live in a lively neighborhood and wish to reduce outside noise.
Light-filtering cellular shades can provide rooms with a soft glow. Darker-colored cellular shades or double-cell shades can block extra light, and room darkening shades can completely block light when combined with light blockers. Whenever you need some natural light, you can simply raise the cellular shade and it will retract into a neat, small stack, allowing plenty of sunshine in.
5. Dual Shades
Dual shades are perfect for new homes with a modern aesthetic. With a combination of opaque and transparent fabric panels, dual shades eliminate edges when they're closed, which enhances your home's indoor and outdoor appearance. Panels operate on a roller system that allows you to adjust the angle for ideal light and privacy control. Their sleek design and optimal functionality make them perfect window shades for new homes.
6. Outdoor Shades
Outdoor shades are a creative way to cover your windows, patio areas and other outdoor spaces. They're durable enough to handle rain and wind, and they can provide as much or as little sun protection and privacy as you wish. With motorized operation and zipper side closures, outdoor shades are perfect if you're looking to cover your new home's outdoor areas.
7. Room Darkening and Sunscreen Shades
If you're looking to maintain privacy and manage sunlight while preserving your view, room darkening and sunscreen shades are an excellent choice for your new home. With room-darkening shades, you can welcome abundant light into your home or completely block it for full privacy and UV protection. Sunscreen shades come in various transparencies, allowing you to choose the right opacity based on your preferences and your home.
8. Room Darkening Curtains
Similar to room darkening shades, room darkening curtains can provide full privacy and significantly reduce sunlight when closed but allow sunlight in when open. Room darkening curtains provide a stylish way to block light out when you need to sleep or simply want to protect your home from UV rays.
9. Sheer Curtains
Sheer curtains are made of thin fabric that allows plenty of sunlight to filter through. If you're adding window coverings to a second-level room or a room facing a private backyard, sheer curtains can add an elegant touch of style. They are also perfect if you enjoy abundant natural light and the aesthetic that it brings. Sheer curtains can provide partial privacy while still allowing plenty of sunlight into your home.
10. Cafe Curtains
If you're looking to add charming style without compromising sunlight, cafe curtains are a terrific choice. A cafe curtain covers half of a window to provide partial privacy and natural sunlight. Cafe curtains are perfect for kitchens, breakfast nooks or other spaces where you would like to enjoy natural light.
11. Pinch Pleat Curtains
Pinch pleat curtains feature fabric that is tightly gathered at the top and stitched together to create a decorative look. The sewn pleats create elegant vertical folds that extend from the top to the bottom. Pinch pleat curtains can come in various colors to match your home's style, and they provide wonderful insulation for energy efficiency and comfort.
12. Grommet Curtain Panels
Grommet curtain panels feature plastic or reinforced metal eyelets that line the top of the fabric. Since this type of window covering is easy to open and close quickly, they are ideal for large windows, French doors or other areas where you frequently need to open and close curtains. Grommet curtain panels also have a very stylish appearance, so they match many different home designs. Additionally, they provide ample insulation.
13. Layered Window Treatments
To add extra style to your home, you can create a layered look by combining shades and drapery. Hanging drapes high and wide in a room can make the room appear larger, and installing shades within the window frame can add sophisticated texture while providing coverage and privacy.
You can also create a layered look with a double curtain rod. Double curtain rods allow you to layer sheer curtain panels behind lined drapes for a designer look. This combination will allow you to utilize the sheer curtains when you want to welcome more natural light into your home and display the lined drapes when you need more privacy and light control.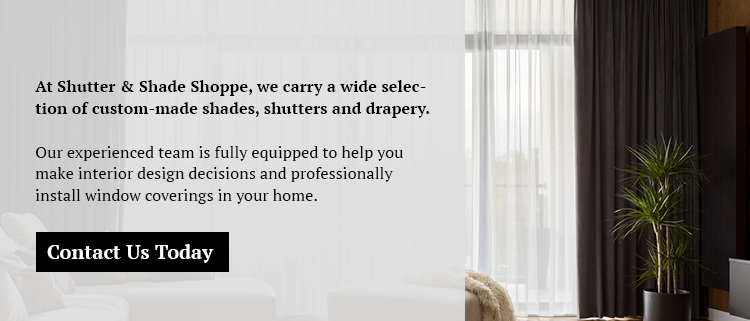 Find the Best New Home Window Coverings With Shutter & Shade Shoppe
You want your new home to reflect your unique style and provide adequate functionality. Choosing the right window coverings can provide your home with style, comfort, privacy, sun protection and energy efficiency. At Shutter & Shade Shoppe, we carry a wide selection of custom-made shades, shutters and drapery for your home located in Orange County as well as areas like Fontana, Jurupa Valley, Norco, Ontario, or Riverside in San Bernardino County and Pasadena and Los Angeles in LA County.
Our experienced team is fully equipped to help you make interior design decisions and professionally install window coverings in your home. Whether you are looking for more privacy, improved energy efficiency or stylish design, Shutter & Shade Shoppe can provide you with quality window coverage options.
Contact us at Shutter & Shade Shoppe to request a quote or book a free in-home consultation.