Custom Outdoor Shades in Southern California
If you're thinking about installing new window treatments on your home, have you considered putting them on the outside patio or deck? Outdoor shades are an attractive, creative solution for improving your home.
At Shutter & Shade Shoppe, our design consultants can provide an impressive list of outdoor solar shade options for you to choose from and get started. We also provide custom installation for an exact fit. These window shades offer multiple benefits over interior products. They will add value to your home and improve your quality of life.
Outdoor shades are a category of window treatments made for installation on your home's exterior. Outdoor shades are different than those you'll find indoors. 
Our custom-made outdoor shades are made to handle the wind and rain and are designed to provide your home with glare protection and block UV rays. They also provide an aesthetic upgrade that complements the rest of your home design. Whether you are looking to make your outdoor space more comfortable for entertaining or you just want to add some visual appeal, outdoor shades are an ideal choice.
What Are the Advantages of Installing Custom Outdoor Shades?
Outdoor shades are durable window coverings that can be installed on virtually any home. They are suitable for use in outdoor seating areas and spaces, like patios, decks and verandas, and for covering the windows surrounding your entire home.
Custom outdoor shades are also an ideal window treatment for California rooms. Use your California room shades to let the light shine in or pull them down for an enclosed area that feels like an extension of your indoor living space.
Having our team design and install custom outdoor shades for your Orange County home is an investment, and it delivers multiple advantages that you can start enjoying right away:
In-home consultations: Here at Shutter & Shade Shoppe, we understand that every Southern California homeowner has unique window measurements and style preferences. For this reason, we offer free in-home consultations before we install any of our window shades. Our team will take measurements and help you decide on the product color and style that would work best in your space.
Improved comfort: The sunlight is one of the best features in our area, but there are times when it can be too bright. Our shades provide a convenient solution for light control and glare protection. They make it easier for you to work, watch TV, entertain and relax. Easily control how much sun you let into your space and experience the flexibility of an easy-to-open and close design. 
Better health: According to the Centers for Disease Control and Prevention (CDC), the sun's ultraviolet rays can cause cancers, eye disease and more. Our shades block these rays to keep you, your family, your guests and your pets safe. Spend more time outdoors while taking steps to protect your health and well-being with uv blocking window shades.
Added privacy: Expansive views are part of what makes this part of the country so desirable, but if you can see out, others can see in. Our roller shades provide a barrier against curious eyes, so you can feel more relaxed in your home and be yourself.
Increased protection: Exposure to direct sunlight for even short periods can take a toll on your home fixtures and furniture. With custom outdoor shades, you can help preserve your property and possessions to keep them looking great through the UV blocking and protection outdoor shades provide.
Extra insulation: Custom shades add a layer of insulation to your home, helping to keep the temperature regulated throughout the year. Outdoor shades help to lock in the heat in the winter and keep your space cooler in the summer.
Professional installation: We offer competitive timelines so you can start enjoying your new shades as soon as possible. When your custom outdoor shades are ready, we'll schedule the installation when it works best for you. We'll make sure you enjoy a stress-free and satisfactory experience from start to finish. 
Extra durability: Our custom outdoor shades are designed for direct exposure to the elements. They are rated to withstand wind gusts up to 60 miles per hour when extended, so you can feel safe during the occasional storm while in your covered space. An added bonus? They require minimal maintenance to look and function their best.
At Shutter & Shade Shoppe, we are dedicated to your satisfaction. Our custom outdoor shades are budget-friendly and backed by a limited lifetime warranty, and any hardware we install is backed for life. 
Attractive Outdoor Shades Designed for Your Convenience
The outdoor shades we install have the latest features to help you take advantage of all the benefits these products have to offer.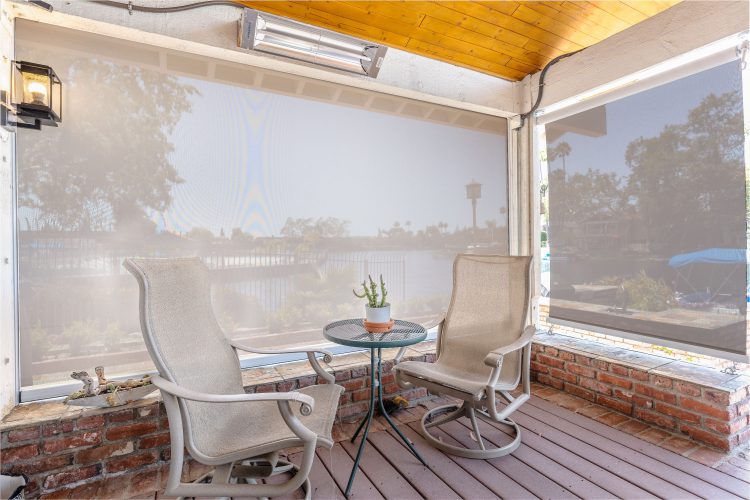 Our outdoor shades are motorized making them simple to open, close and adjust to your exact preference with the touch of a button on your remote control. Motorization also means eliminating dangling cords, making these shades more attractive than manual options and increasing safety for children and pets.
While the motorized operation is our most popular and preferred style, we do offer custom outdoor roll-down shades with the manual operating system as well. This is beneficial for customers that don't have the necessary posts that are used to attach the sidetracks, which are required for the motorized feature.
The outdoor shades we install are designed to remain in place, even during inclement weather. Each side of the fabric has locking zippers that fit into a low-profile channel. If a strong breeze hits your shades, the zipper stops the fabric from separating, helping you maintain a complete barrier.
With the zipper side closures, you can also enjoy the prevention of any excess dust, dirt, or debris from entering your inside space and dirtying your furniture. This benefit is not guaranteed on competing products that don't feature the zipper closures.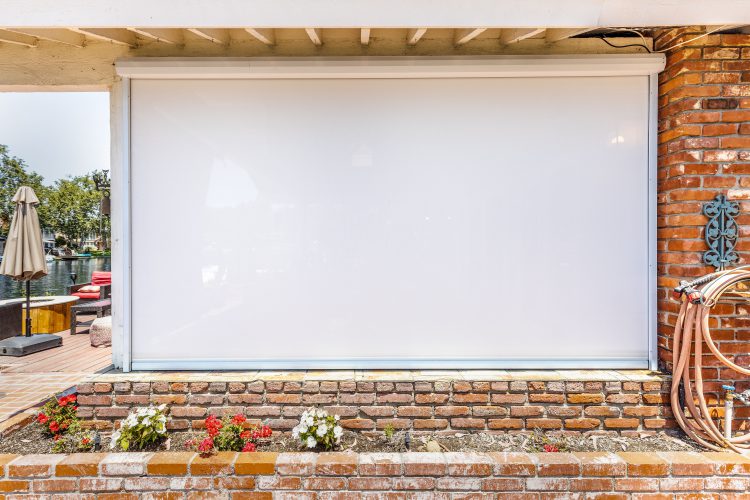 Your Home for Design, Selection and Expert Installation
With custom outdoor shades from Shutter & Shade Shoppe in Orange County, you get products designed exclusively to fit your home. With an incredible selection to choose from and the expertise to help you make the best decision, we are your trusted distributors for the top names in window treatments.
Our process begins with an at-home consultation where all you need to do is sit back, relax and enjoy the experience. One of our experts will explain your options and the benefits of each. We'll also make things simple by collecting all your window measurements for you. We'll also include computer mockup drawings so you can visualize your custom outdoor shades or patio shades before committing to your design.
We're as excited as you are to mount your new shades on your home. Lead times on all these products are competitive, with most outdoor shade installations completed within short time frames. Your representative will let you know what to expect from the start and keep you updated each step of the way. When your custom shades are ready, we'll schedule a convenient time for professional, precision installation from our in-house team.
Why Choose Shutter & Shade Shoppe?
Here at Shutter & Shade Shoppe, we are committed to providing the outdoor shades homeowners in San Bernadino, Orange County and LA County are looking for. We handle it all, from the design to the installation. Our experienced team will be by your side from start to finish, ensuring all of your needs are taken care of. Working with us to create custom outdoor shades and patio shades also means experiencing quick, competitive lead times.
We handle it all, from the design to the installation.
Let's Discuss Custom Outdoor Shades for Your Home
If you are a homeowner in Southern California looking to transform the function and style of your outdoor space with custom shades, Shutter & Shade Shoppe has you covered. We can help you transform any porch, patio or outdoor area into a setting your friends and family will love spending time in, even on the sunniest days.
Feel free to tour our virtual showroom for inspiration and contact us to start creating your custom outdoor shades. You can also reach us by calling 949-600-9880.