Not every window is a standard size. If you have an unusually sized window, like bay or round, you may wonder how to dress it. While you might have minimal options in stock at the store, custom window treatments make your choices limitless. Check out this guide to window treatments for different window types.
What Are Window Treatments?
Materials covering a window partially or entirely are window treatments. Some are functional, while others are decorative. The primary types of window treatments are as follows.
The Benefits of Window Treatments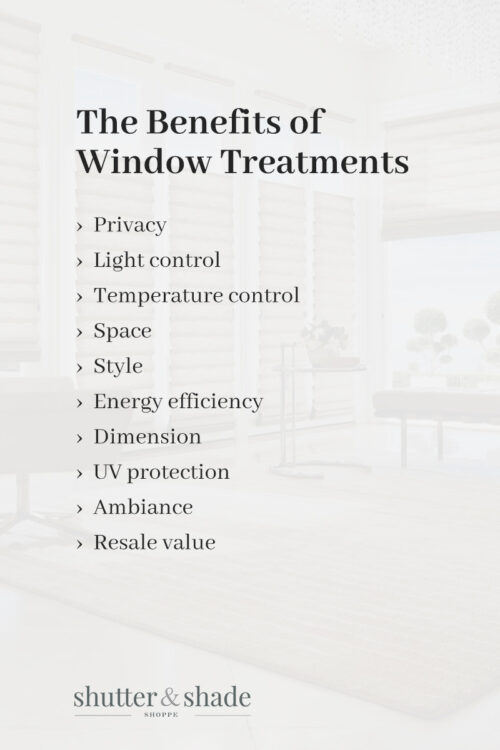 Window treatments are a crucial functional and decorative interior design aspect. They make your space warm and inviting and filter the sun's ultraviolet rays. There are many reasons to add window treatments to your home.
Privacy: Without window treatments, people can peer into your house anytime. It'd be easy for potential thieves to scope the place out or your neighbors to see what you do in your free time. Shades, shutters and blinds keep your home and activities private and help reduce noise.
Light control: Window treatments control how much light enters your home. You can let in a little light and reduce glare or create a serene, dark space for an afternoon nap.
Temperature control: Temperatures can become unbearable in the summer, causing your heating, ventilation and air conditioning system to work overtime. Instead of risking premature HVAC wear and tear, use window treatments to help control your home's temperature. Window treatments reduce the heat entering your home and provide insulation to keep the cool air in. During winter, window treatments keep warm air in and cold air out.
Space: Window treatments save precious floor and wall space. They also create distance between the floors and ceilings, making a room appear larger.
Style: You can dress up your windows and show off your eye for decorating with window treatments. Window treatments have many color, style, material and design options. Choose treatments that make your windows stand out or tie everything in your room together.
Energy efficiency: Roughly 30% of your home's heating energy escapes through your windows in winter. In summer, 76% of the sunlight hitting your windows becomes heat inside your home. Treatments reduce the energy lost through your windows, making your home more efficient and decreasing energy bills.
Dimension: Window treatments improve your home's look and feel by adding color and texture to a wall and creating a cozy, lived-in atmosphere.
UV protection: Excessive exposure to UV rays can cause skin cancer and cause your furniture and flooring to fade. Window treatments can block intense UV rays to protect your skin, furniture and flooring.
Ambiance: You can control the light in your home to create the perfect atmosphere. Whether you're enjoying a romantic evening or snuggling up with a good book and a cat, lighting plays an essential role in setting the mood.
Resale value: Window treatments can make your home more attractive to potential buyers, increasing your resale value. And windows with a view can make a room appear more spacious than it is.
The Best Treatments for Different Types of Windows
Create a list of priorities when determining the best window treatment for you. Decide which of these aspects is most vital to you:
Privacy
Light control
Energy efficiency
UV protection
Motorized controls
Sound dampening
Style
Once you know what features to look for, you narrow your options. Check out these window treatment ideas for design inspiration.
Oversized picture windows provide unobstructed outside views. You can appreciate nature's beauty from the comfort of your home. And you can allow abundant natural sunlight to stream in, improving your mood. 
Picture windows don't open or have any rails. They consist of a single glass panel and are larger than most windows, which may make you worry about how to cover your oversized window. Here are the best window treatments for large windows.
Blinds: Vertical blinds offer privacy and light control and minimize the gap around your window's edge. Choose wood blinds for a timeless, elegant look in whatever stain, finish or solid color you desire. Cordless and motorized vertical blinds are safer for children and pets.
Woven shades: Shades are perfect for large windows because they're adaptable and insulating. Woven shades use bamboo, grass or reeds to create a beautiful, natural style. Leave the shade down to filter or block the light or raise it to enjoy the panoramic views.
Roman shades: Roman shades have been around for centuries. They're a timeless window treatment, offering homeowners unique aesthetics with their mesmerizing texture. These shades are a soft, durable fabric that collects in stacked layers when the shade is open and pulls tight and smooth when closed.
Sunscreen and blackout shades: Sunscreen shades give you complete control over the sunlight you let in. These shades have varying transparency levels to let the ideal amount of light into your home.
Cellular shades: Cellular or honeycomb shades have multiple fabric cells that expand and contract as you raise and lower the shade. They're excellent for large windows because they have a top-down, bottom-up option. You can elevate them to the ideal position without sacrificing privacy.
Dual shades: Dual shades use high-quality fabrics to create transparent and opaque panels that eliminate light gaps when closed. The transparent panels let in light, while the opaque ones provide privacy.
Sheer or light drapes: Sheer drapes are breezy and airy. They complement the picturesque views from your windows and create a rejuvenating and open atmosphere. You can pair sheer drapes with darker panels to afford you more privacy or opt for opaque light curtains.
Motorized: Many homeowners prefer motorized window treatments because they're more convenient and efficient. Raising or lowering them to a specific height is effortless.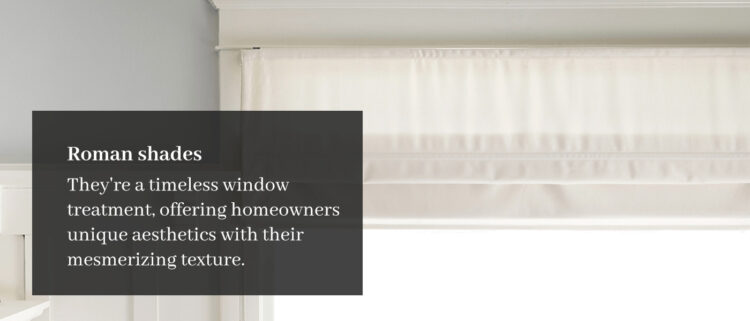 Small windows are standard in bathrooms, kitchens, attics or as a group along the top of a wall. You may want to find a way to enjoy nature and maintain your privacy, especially if the small window is in your bathroom. Window treatments for small windows are as follows.
Shutters: Shutters are stunning on small windows. They look sleek and polished, creating a barrier when closed but still allowing sunlight to filter in.
Roman shades: Roman shades are elegant with many style and color options. They aren't see-through, and you have total light control.
Woven shades: Woven shades create a luxurious and relaxing spa-like atmosphere, especially in a bathroom.
Sunscreen and blackout shades: Nothing can beat the privacy of sunscreen and blackout shades.
Blinds: You can tilt the slats on vertical blinds to let sunlight stream in while preventing others from seeing inside.
Drapes: Lightweight curtains in earthy tones or containing natural designs create a refreshing ambiance. They highlight small windows. Drapes are an excellent choice for creating privacy and a timeless, sophisticated look.
Bay windows are a charming architectural feature, serving as a focal point in your room. However, they're an awkward window to dress since they sit as three sections in a wall nook. Here are some stylish window treatments for bay windows. 
Roman shades: You can install Roman shades on each window, making them appear more modern. Choosing light shades can highlight their elegant beauty.
Blinds: A light-filtering option with countless styles and colors to enhance your home's design.
Shutters: Wood plantation shutters for bay windows are timeless. They complement bay windows while creating a rustic look and improving security and privacy. You can individually open and close the top and bottom sections for greater light control.
Drapes: Drapes are sophisticated and majestic. Installing them on your bay windows creates a pleasant cascading look like a ripple in a stream. Vibrant jewel-toned drapery looks striking on bay windows, making the space more luxurious.
Round windows have a symmetrical design and circular, hexagonal or octagonal shape. They're common in bathrooms, closets, stairways and entryways. They require less space because they don't have any corners, so you can add them to almost any room or area. 
Often, round windows are high up, allowing for privacy without a covering. However, they may let in too much natural light or be too low for privacy. Installing window treatments can solve both problems. Consider these round window treatment ideas.
Drapes: Sometimes, round windows sit above rectangular windows. If this is the case, you can install curtains on the sides of the window.
Shutters: Plantation shutters can open away from the window, making them an excellent choice for round windows.
Arched windows are unique and impressive. They're beautiful to look at but challenging to cover. You can dress your arched windows with the following.
Cellular shades: Cellular shades mount within the window's frame, directly below the arch. They seamlessly integrate with your window, allowing ample light from the arc without creating light gaps below or occupying space beyond the window.
Roman shades: Homeowners typically use Roman shades for smaller arched windows. You mount these luxurious shades within the window's frame, exposing the arch to allow natural light in.
Shutters: If you would like light control for the arch of your window, shutters may be the solution you're looking for. Plantation shutters can be custom made to follow the arched shape of your window. 
Drapes: You can mount the drapery rod above or below the arch or on the ceiling to customize the coverage. Long curtains draw your eyes up and make your walls seem more dramatic.
Casement windows open and close using a hinge on the frame's sides. Some casement windows use a latch, while others have a crank. You can completely open casement windows, making them ideal for rooms where you want more ventilation. To dress casement windows, you need treatments that don't decrease their functionality.
Shutters: Plantation shutters are ideal for casement windows because they provide better temperature control. During the warmer months, you can open the shutters to enjoy the fresh air, and in colder months, you can shut them to prevent heat from escaping. Shutters integrate with your casement windows, so you can easily access the latch or crank. They also provide a pleasing aesthetic, enhancing your window's look.
Sunscreen and blackout shades: Sunscreen and blackout shades reduce the glare in your room and protect your privacy. You can control the temperature and light in your room while still accessing your windows to open and close them.
Roman shades: Shades can fit inside or outside your window's frame and fold when raised, allowing you to access the crank or latch. You can choose fabrics and textures that match modern or traditional spaces.
Blinds: Blinds are classic, complementing the casement windows' classic styles. They keep natural light balanced, improving your comfort.
Drapes: Since the window opens out, drapes won't interfere with it.
Wide or Rectangular Windows
Rectangular windows are wider than average, offering you more than a glimpse outside. Their design and function are simple, and they can provide spectacular views. Here are some nonstandard window treatments for your rectangular windows.
Shutters: Shutters for large windows are clean and welcoming. They fit so well on rectangular windows that they look like the window and shutter came as a pair. Many colors and customization options are available to create the perfect shutter for your home.
Cellular shades: Cellular shades improve your home's energy efficiency. Their simple design doesn't detract from your wide window's charm.
Blinds: Blinds are a popular choice in bedrooms, family rooms and other rooms where you value privacy and dark environments.
Roman shades: The grace of Roman shades is perfect for dining rooms, living rooms or other rooms where you want to draw attention to your window.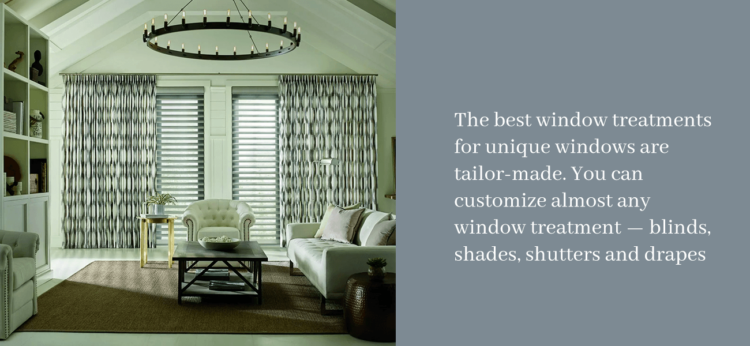 The best window treatments for unique windows are tailor-made. You can customize almost any window treatment — blinds, shades, shutters and drapes. Window treatments for custom windows have the same advantages as window treatments with the following additional benefits.
Preciseness: Manufacturers make custom window treatments for your windows so they fit perfectly.
Design flexibility: You have more color, texture, style, finish and material options.
Professional installation: Specialists can recommend and install treatment options that fit your wants and needs and complement your home's interior.
Like windows, sliding glass doors offer an unobstructed view of the outside world. The best treatments for sliding glass doors are as follows. 
Shutters: Shutters can make your spaces look contemporary, boho, modern or farmhouse. Wooden shutters look fantastic in any home and provide privacy and sun protection.
Dual shades: Stylish dual shades are a contemporary, chic window treatment for your glass door. They allow you to enjoy the sunlight while protecting your privacy.
Sunscreen and blackout shades: These shades can darken your space and enhance your privacy. They come in simple designs to complement any interior style.
Roman shades: Roman shades create a historical, elegant feel. They're excellent when you want a shade with a creative design.
Woven shades: Woven shades complement beach, bohemian or other natural decor. They can bring the outdoors into your home.
Drapes: Simplistic, timeless drapes come in many styles and designs that can enhance your home's interior design and ambiance.
Find the Perfect Window Treatment at Shutter & Shade Shoppe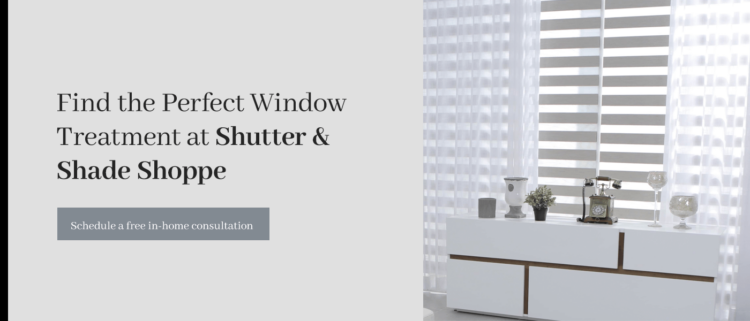 The best window treatments for you are right around the corner! Shutter & Shade Shoppe has the experience and expertise to help homeowners find window treatments that meet their specifications and preferences. Our high-quality treatments will remain beautiful and classic in your home for years.
You can use our free in-home consultation to find the best window treatments for your needs. One of our expert team members will walk you through your options and suggest custom window treatment ideas to help you select one that matches your desires and home's aesthetic. They will take measurements so we can create a treatment that fits your windows perfectly. After we make your treatment, our professional installers will install it quickly, cleanly and flawlessly. Contact us today to schedule your free in-home consultation or receive a quote!