The right window treatments can transform a room and carry out many important functions, from providing greater privacy to blocking unwanted light. 
The ideal coverings for your home will depend on your goals and the space they are going in. Different styles can greatly impact the room's overall design and functionality. Consider how sleek, white shutters versus long, dark drapes would change how a room feels.
When deciding on the right window treatments for your home, there are some key considerations to explore first. We are breaking down the best window treatments for each room in your home and everything you need to keep in mind when making your decision.
How to Choose the Right Window Treatment
Explore the following considerations for selecting window treatments:
Account for the size and shape of each window before picking out window coverings. You'll need to consider the architecture around your windows and how that might interfere with or complicate the installation process. 
For round, large and irregularly shaped windows, you may want to opt for custom treatments designed specifically for your space. The team at Shutter & Shade Shoppe can help you pick the perfect solutions during your in-home consultation.
Functionality is an essential part of choosing the right window treatment. Before selecting options for your home, consider what purpose you want them to serve, such as:
Privacy
Controlling natural light 
Blocking ultraviolet rays
Temperature control
Energy-efficiency
Complementing an existing style
When you know what functions are important to you in each room, you can begin exploring different window treatment types that will provide the benefits you want.  
The following are popular types of window treatments:
Shutters: Shutters are a classic option that features moveable slats that let you control how open or closed they are. They're typically made of wood or PVC and come in various colors and stains. 
Shades: Window shades are a versatile type of window treatment that comes in various colors. You can find diverse shade options, including ones that block out the light or those made with natural materials like bamboo. 
Drapery: Drapes and curtains are made with flowing fabrics, such as cotton, linen or silk. They add a stylish touch to any space while offering greater privacy. 
Best Window Treatments for a Living Room
The living room is a beacon of entertainment, relaxation and connection. Whether you're having a Saturday movie marathon alone or hosting a game night with your friends, this space has many diverse uses. Since a range of activities typically takes place in the living room, you want window treatments that suit a wide variety of needs.
You'll likely want to prioritize aesthetics and function when deciding on the perfect option. Questions to ask yourself regarding window coverings for your living area include:
How does your household typically utilize the space?
What design style is your living room decor, flooring and furnishings?
Can people easily see into your living room from the outside?
Is there an entertainment center?
Does the space receive a lot of natural light?
Which areas would you like to highlight in the room?
You can narrow down your living room's unique needs by exploring these questions. The right type of window covering will depend on your goal for the space.
Drapery is a great way to make the room feel elegant and cozy in most living areas. You can choose thicker fabrics for added privacy or include sheer layers to let in extra natural light throughout the day. Drapes often make a great focal piece, though you may want to install shades as well if you need additional privacy or want to block the sun.
Best Window Treatments for a Bedroom
Your bedroom should feel like a safe, relaxing space. Whether you are changing your clothes or unwinding before bed, window coverings are essential for feeling comfortable and maintaining privacy. 
When choosing window treatments for a bedroom, finding options that match the rest of your decor and complement your space is highly beneficial. If your room is minimalist and modern, you might want to pick something sleek, such as dual window shades, to coincide with the rest of your aesthetic. Drapery is a better choice if your bedroom decor style is whimsical and airy. 
Lighting is another crucial element when narrowing down bedroom window treatment options. Consider how the sunlight enters your space and whether or not it interferes with your sleep. If you like to wake up with natural light, a layer of sheer drapes will let the light pour in while still providing a small amount of privacy. 
If you prefer to sleep in total darkness, consider upgrading to room-darkening shades that block most of the light to create a dark and cozy ambiance. These window treatments offer a contemporary look while shielding outsiders from seeing in, which is ideal for a bedroom where you want greater privacy. 
An additional perk of room-darkening shades is that they can serve as insulating materials to keep your space feeling more comfortable despite the conditions outside.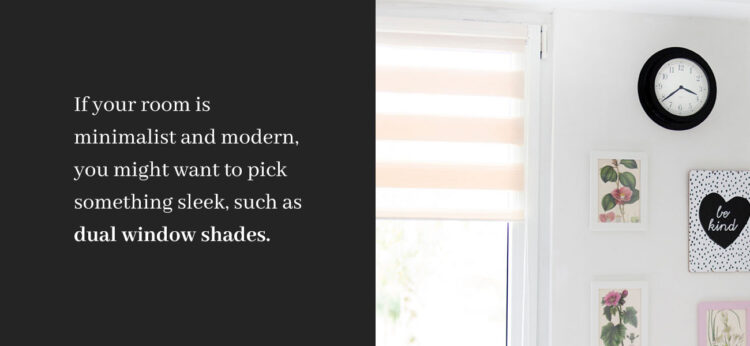 Best Window Treatments for a Bathroom
Window treatments are a necessity in most bathrooms. The shower and toilet areas will need something that blocks the view from outside so you can use your space comfortably.  
While privacy may be an obvious element of bathroom window coverings, you also want to consider aesthetics. Look at your bathroom and what options would pair best with your flooring, shower curtain, bath mats and other decor pieces. The options you choose to install will alter how the space looks and feels. 
Roman shades are a great pick if you are looking to add privacy and comfort to your space. They are made of a soft fabric that looks smooth and sleek when extended. When you draw them open, these shades offer an interesting folded texture that still looks neat and tidy. 
Some homeowners prefer to use bathroom window treatments that are not made with fabric or porous materials. PVC shutters are ideal for humid and damp environments because they are moisture-resistant. They add much-needed bathroom privacy while letting natural light peek through. 
Shutters make it easy to control how much light comes into your space, and they effectively block the sun, keeping your bathroom cool and protecting those who use it. If your bathroom architecture doesn't support window treatments like curtains and shades, you can use tinting or frosting to blur the view through the glass.
Best Window Treatments for an Office
The window treatments in your home office can greatly impact the overall space and how you use it. It is especially important to cultivate a room where you can be productive if you work from home.
A bright space is best for working, making natural light a crucial factor to consider — but don't forget to note any glares on the computer screen when choosing window treatments and arranging the room. Controlling the light is the most important element to consider when selecting window treatments for your home office. You want a space that is conducive to all your important tasks, such as hopping on a video call with coworkers.
The workspace's interior design also impacts which window treatments are best suited for this room. Consider how you want this area to look and function. If you design your home office to have a modern, minimalist design, window shades are a great option. You can find various styles that add a clean, simple touch to your space.
For offices decorated with rustic elements, window treatments made from natural materials can complement the space and create a cozy feeling. Wood shutters or woven window shades are two options for creating a warm, inviting office area. 
Consider adding drapery if you prefer a traditional interior design style for your home office. Drapes have a classic, elegant effect that can elevate the look of your space. 
Best Window Treatments for a Nursery
A nursery should be a safe area for parents and children alike. In addition to bringing together the space's interior design, the window treatments in this room have a few important roles to play. 
Privacy is a significant element to consider when choosing window treatments for your baby's nursery. While exploring different options, it is necessary to find coverings to block the view into your space. You want privacy during intimate moments, like breastfeeding or changing your child's clothing. 
Lighting is also a major factor in your decision-making. Shades are a great choice for nursery windows. Room-darkening shades can be a great addition to any nursery because they block the sunlight and create a dark environment for nap time. 
Another consideration for picking out window treatments for the nursery in your home is aesthetics. If you've designed your space to be beautiful and comfortable, you want to choose coverings that complement the rest of the room while still adding function. Woven shades provide privacy and filter light while creating a warm and cozy effect in your space. Colorful window treatments are also a good fit for many nurseries.
Consider the benefits of layering treatments in your nursery. For example, you might add a layer of sheer drapes over shades so you can enjoy greater control over lighting, privacy and coverage.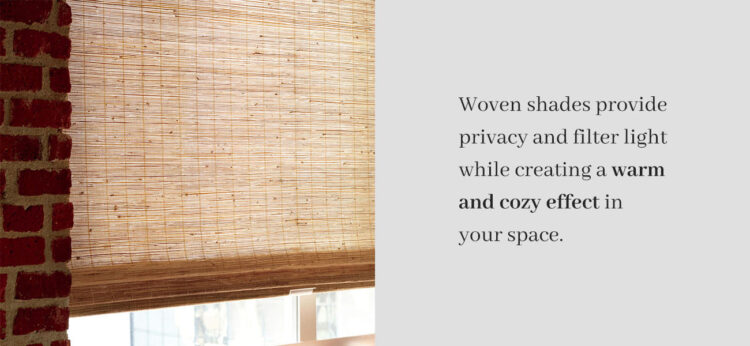 Best Window Treatments for a Dining Room
Your dining room is a special area where family comes together to appreciate delicious food and connect with one another. The window treatments in this room influence the ambiance and comfort of the space.
Focus on aesthetics and design when exploring different window coverings. Consider how you can tie the decor together with the right treatments. Unlike a bathroom or bedroom, privacy is typically lower on the list of priorities for a dining room. This gives you more freedom when making your buying decision. 
Drapes can be a fantastic addition to a formal dining room. They are an elegant and practical feature that will make the space feel more special. They're also versatile, so you can adjust them for greater privacy and lighting control. 
If your home's interior design style is more modern, shades could be the perfect window treatment for the dining room. Woven shades let you incorporate interesting textures while still having those clean, sleek lines. You can find various fabrics, colors and patterns to suit your unique space.
A dining room that features rustic or coastal-inspired decor can pair nicely with shutters. You can find them in wood and vinyl options. They let you easily control how much sunlight is in your space while being visually appealing. Whether you're interested in a natural look or a specific color, shutters can be a great choice for your dining area. 
Best Window Treatments for a Kitchen
You'll want to prioritize functionality when deciding on the perfect window treatments for your kitchen. The kitchen is often one of a house's busiest and most-used rooms. Consider what is near each of the windows in this room — everything from the sink's location to where you prepare food to the hot stovetop will inform your decision. 
You'll likely want treatments that are easy to clean, safe around hot surfaces and do not absorb food. While drapes can be a beautiful touch to this busy space, fabric coverings are not always the most suitable choice. Ultimately, shades or shutters are the best window treatments for a kitchen. 
If you are looking for a type of window treatment that will offer an interesting touch and let in some natural light, consider dual shades. They feature alternating bands that filter light differently, creating a brightening effect without being overwhelming. 
Shutters are particularly well-suited for a kitchen and let a lot of natural light peek in. They offer a classic, timeless look, and high-quality options should last for years in your home. Vinyl shutters are a great choice because you can easily wipe them clean if food or drink spills or splatters. 
Schedule Your Free In-Home Consultation with Shutter & Shade Shoppe Today!
If you are located in Central or Southern California and want to upgrade your window treatments, turn to Shutter & Shade Shoppe for custom, high-quality window coverings and accessories to elevate and transform your space.
Our experienced team will help you discover the perfect cost-effective shutters, drapery and shade options for each room in your home. You'll choose from a wide variety of designs to curate your ideal space with the perfect window treatments to suit your style and budget.
Are you ready to begin? Contact Shutter & Shade Shoppe to schedule your free in-home consultation today!