Although the summer season has come and gone, you can still select a stylish window treatment that complements your sliding glass door and lets the natural sunlight come through. Window treatments are an excellent way to add an extra flair to your living spaces while providing the shade and privacy you desire to cozy up with a good book or movie.
Browse through a selection of the best window treatments for sliding glass doors that can match your aesthetic and offer several benefits to your home.
Benefits of Window Treatments
Homeowners in the Southern California area will see immediate benefits when they install window treatments, and several long-term advantages accompany these stylish sliding glass door additions as well. Besides enjoying the trendy styles each time you walk past your doors, there are other reasons for installing window treatments.
Protecting Your Home From UV Rays
With the intensity of California's warm sun entering your home each day, you may begin seeing changes to your flooring, decor and wall paint over time. Luckily, with window treatments, you have the option to protect your interior features from exposure to UV rays.
Without window treatments, you might experience the following impact on your interior design:
Furniture discoloration: Constant exposure to the sun can make your furniture absorb light and heat, which causes the colors to fade more quickly than natural aging. Cushions might also begin sagging and lose their natural shape when they are close to windows or glass doors.
Floor fading: Wood and stone floors are timelessly beautiful but are no match for UV ray exposure. While rugs can help protect your floor from the sun, the rest of the floor may fade without the help of shutters or shades.
Photodegradation: Artwork on your walls are a great way to bring your aesthetic into your living spaces. However, when UV rays go through windows and doors, hanging photos and paintings can also begin losing their natural colors over time.
Privacy
Valuing your privacy is common if you live close to other homes. Luckily, window treatments for your windows and glass doors give you the shade and privacy you need to lounge comfortably in your favorite living spaces.
Another great aspect of window treatments is that you do not have to give up a view of your yard in exchange for privacy! Many homeowners feel the need to choose between a private life at home and a gorgeous view of the area around their houses. With the right window treatment, you can enjoy both with ease. Certain shades and shutters grant you a clear look outside while avoiding glances from strangers inside your home.
Window Treatment Styles
There is no shortage of stylish window treatments for sliding glass doors that can complement your home's aesthetic! With numerous customizable styles, sizes and transparency levels to choose from, you can find the perfect choice for you and your home.
Glance through the following sliding glass door ideas to find the proper window treatment for your home.
Plantation Shutters
Shutters add a boho, modern, farmhouse or contemporary aesthetic to your living spaces. The tilting slats of plantation shutters look effortlessly beautiful in any home while offering privacy and protection from UV rays whenever you need them.
Wood and PVC slats can withstand the test of time, and plantation shutters increase your home's value and regulate the hot California temperature all year. The privacy and protection from UV rays offered by plantation shutters over your sliding glass door make them a popular choice among Southern California homeowners.
Dual Shades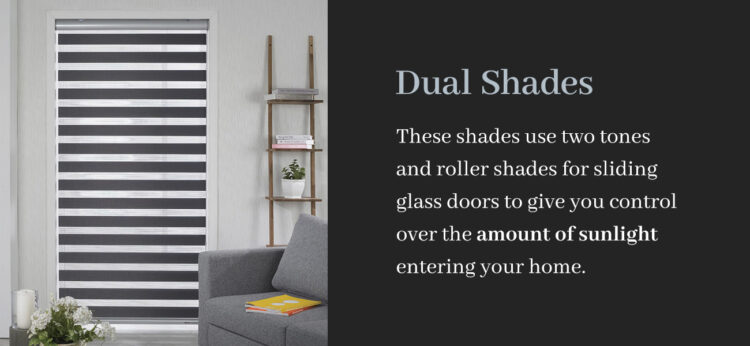 Look no further than stylish dual shades window treatments for a modern and chic addition to your sliding glass door. These shades use two tones and roller shades for sliding glass doors to give you control over the amount of sunlight entering your home.
The cloth fabric and various color options give your space a cozy feel while adding a timeless style to your home. They can also match your home's exterior so your neighbors can admire them without looking into your house.
Room Darkening Shades
Create a minimalistic style with room darkening shades for your sliding glass door. If privacy and simple styles are your top priority, room darkening shades are customizable to offer you as much transparency as you want.
The mesh material of these shades lowers from the top of your sliding glass door. You can adjust the length of the shades by lowering them to any height you choose.
Room darkening shades are an excellent choice if you prefer the comfort of darker rooms. Sun rays can make it challenging to take a power nap during the day when they make their way through windows and doors. With the help of room darkening shades, you can enjoy the constant shade and temperature balance in your living spaces, which can also lower air conditioning costs on your electric bill.
Roman Shades
Roman shades are an excellent option for window treatments in sliding glass doors when you want a touch of historic style. You can adjust Roman shades by pulling the bottom of the material toward the floor for ultimate privacy and less exposure to the sun.
When Roman shades are open, they create a folded layer at the top of your sliding glass door so you can enjoy a clear view of your yard anytime. There is also no shortage of creative designs you can add to your Roman shades to match the aesthetic of your living spaces. With numerous customizable styles and sizes, Roman shades for sliding glass doors are arguably the most versatile window treatments for your home.
Woven Shades
If you enjoy contemporary beach styles, you can add this aesthetic to your home with woven shades for your sliding glass doors. These nature-inspired window treatments use grass, bamboo and reed to bring the feeling of the outdoors right into your favorite living spaces. It only takes one cord to adjust woven shades, which adds to their perfectly simple style that continues to prove handy for homeowners.
Woven shares are customizable, so you can choose the colors, textures, materials and styles to fit your glass door's surrounding aesthetic. You can also enjoy the eco-friendly properties of these contemporary window treatments for sliding glass doors, as they reduce air conditioning costs. Our woven shades also come with the option of a privacy liner if privacy is your priority.
Curtains and Drapes
Simplicity and timeless style are characteristics of beautiful customizable curtains and drapes for your glass sliding doors. No matter your home's existing aesthetic, you can find colors, materials and designs for your new curtains that enhance the look and feel of your favorite living spaces.
Drapes help regulate temperatures in your home all year long, saving you the extra heating and air conditioning costs. The flow of curtains also gives your room natural elegance since you can sweep them off to the side for a view of your yard or let them rest comfortably across the sliding glass doors. You can also choose the transparency of your curtains for extra privacy if you need it.
Find the Right Window Treatment With Shutter & Shade Shoppe
The best window treatments for sliding glass doors are right around the corner! At Shutter & Shade Shoppe, we have the experience to help homeowners find window treatments that meet their styling, durability and privacy preferences. Our lifetime limited warranty helps ensure that your final decision will provide long-term benefits and timeless chic to your home.
You can take advantage of our in-home consultation to find the right window treatment for your sliding glass doors. One of our talented team members will walk you through your decisions and help you select an option that matches your and your desired home's aesthetic.
Contact us today to schedule your in-home consultation or receive a quote!