Irregularly shaped windows add a wonderfully unique flair to any home, drawing admiration from fellow homeowners and visitors. A beautiful bay window or stunning skylight can bring character and individuality to an otherwise ordinary room. However, it's no surprise that complications can arise when choosing the right coverings to fit these eccentric shapes and sizes.
Whether you're working with arches or tall, rectangular panels, figuring out how to cover weirdly shaped windows can be tricky. Luckily, these solutions can guide you in dressing even the most peculiar window styles. Here's your guide to the best window treatments for oddly sized windows.
How to Style Awkward Windows
If you're wondering how to dress awkwardly shaped windows, we have plenty of tips to help you out. Below are some common types of irregularly shaped windows and how to dress them.
1. Bay Windows
While they make a charming and timeless focal point, bay windows can be a challenge to approach, as they include three sections nestled into a wall nook. Fortunately, you have numerous options for dressing your bay windows:
Roman shades: One possibility is installing Roman shades for each window. Dark-colored Roman shades can modernize this traditional style, while light hues can enhance their classic appeal.
Blinds: Blinds are another option. They are excellent for filtering light and offer a variety of materials and colors.
Shutters: Wooden plantation shutters are ideal for bay windows, allowing you to open and close the top and bottom sections individually. In turn, you have more control over the light entering through the bay window. Shutters on bay windows also provide optimal security and privacy.
Drapery: Drapes are a luxurious, standout window treatment if you enjoy a cascading look. You can install a single rod like you would on a standard window. Additionally, you can seamlessly control the corner angles and adjust the width of each section to fit your bay windows. You also have many material options when it comes to drapery. Whether silk, cotton, polyester or linen, you can customize window drapery to complement your home's aesthetic.
2. Corner Windows
Windows facing each other at an angle can make dressing a complex task. Here are some ways to solve this dilemma:
Curtains: A double curtain combining room-darkening and sheer fabric can be an excellent choice for corner windows. You can control the curtains separately to allow soft light during the day and block out light at night. One option is using a curtain rod corner connector. You can remove one finial from each rod and attach the rods with the connector. Alternatively, you can install a single, continuous track that shapes around the corner windows, then mount the curtains.
Plantation shutters: Custom PVC plantation shutters are a functional and stylish solution for corner windows. You can customize them to fit any window size or shape. We recommend recess fitting — attaching the shutters to the inside of the window frame — for a sleek appearance. If you have an obstruction like a winder, you might consider attaching them to the outside of the window frame instead.
3. Arched Windows
You don't have to find a curtain rod that conforms to your arched window frame. Rather, you can dress your arched window by installing a standard, straight curtain rod above it. Here are some window coverings that can complement your arched window beautifully:
Cellular shades: Also called honeycomb shades, cellular shades contain multiple fabric cells that contract and expand as you raise and lower the shade. Cellular shades are ideal for arched windows as they mount within the frame. They don't create a light gap or occupy space beyond the window. Similar to Roman shades, cellular shades are mounted directly below the arch, exposing the top space to ample natural light. Moreover, cellular shades offer excellent climate control.
Drapery: Drapery is an exquisite choice for arched windows due to its unmatched versatility. It provides effective light filtration, privacy, climate control and mounting abilities. While some window treatments require specific mounts that don't suit arched windows, you can install drapery above or just below the top of the arch, depending on the type of coverage you desire.
Roman shades: Roman shades are a luxurious treatment for equally elegant arched windows. Homeowners typically use Roman shades to dress smaller arched windows. You can install them at the base of the arch so the shade drops along the window's length. This exposes the top part of the arch to substantial natural light, creating a lighter and airier feel for your room.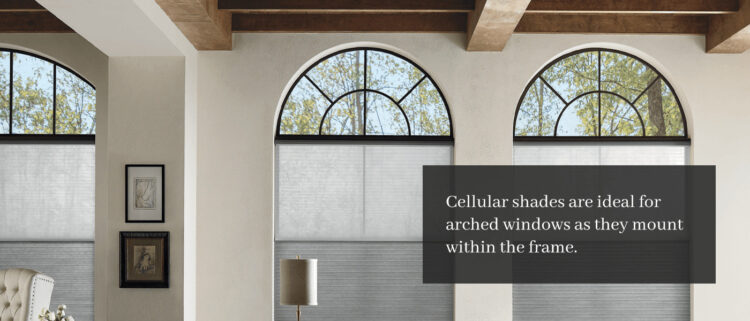 4. Tall Windows
Tall windows are a beautiful feature that any homeowner would fancy. They bring in maximum natural light and create the illusion of a high ceiling. However, they can also make privacy difficult. Thankfully, there are options for dressing your tall windows.
Long drapery panels help accent a window's full height, creating a bold, elegant statement for tall windows. They can also make your room appear larger.
Roller shades can also suit windows that are taller than your standard window size. They enable you to let in or block light at the top or bottom of a high window. Roman shades are another option, providing optimal coverage and a dramatic look for tall, high windows.
5. Skylights
A skylight offers abundant natural light for an otherwise dark space. While it doesn't necessarily require covering, a quality window treatment can be ideal during certain seasons.
In hot California summers, a skylight can overheat a room when catching the sun's high-angled glare. It can also bring chilly temperatures during winter. An effective window covering can provide optimal light control, energy efficiency, insulation, privacy and aesthetic appeal.
Cellular or honeycomb shades can be a versatile option for indoor skylight coverings, guarding your home against harsh ultraviolet rays. They come in single or double cells and light-filtering and room-darkening fabrics. You can customize them to fit your skylights, trap undesirable hot or cold air and block light as needed. Furthermore, you can easily match them to other window coverings in your room for a clean, cohesive look.
Accessing a skylight with an extension pole or ladder can be inconvenient, so many homeowners opt for motorized skylight shades. You can adjust these retractable coverings with a remote control. Some even include solar-powered capabilities.
Find the Best Treatments for Irregular Windows at Shutter & Shade Shoppe
If you're seeking the best solutions to dress your oddly shaped windows, Shutter & Shade Shoppe is ready to assist you. We specialize in custom window covering design and installation. Whether you're looking for drapery, shutters or shades — or you aren't sure where to start — we'll work with you to create high-quality window treatments based on your budget, aesthetics and lifestyle. 
We have an extensive selection of window covering styles, materials and colors to choose from, so you can easily find something to accommodate your home. Contact our team to request an estimate or schedule a free in-home consultation!