Many homes feature beautiful windows to provide ventilation and elegant views of nature from the bathtub or shower. However, many of these windows face the street or neighboring homes, making it essential to find ways to increase privacy.
You want to feel comfortable in your bathroom, and there are plenty of options for increasing privacy and peace. Modern bathroom window treatments offer various styles, colors, designs, patterns and textures to reflect your taste while you craft your oasis. Below, you'll find everything you need to know about these options and how to find the best ones for your home.
Adding Privacy to a Bathroom or Shower
Many people have bathroom windows. Along with ample light, bathroom windows allow fresh air to flow through your home to warm or cool it. However, the placement can become an issue for homeowners who dress and undress in the space. Large windows are beautiful but can offer an unwanted glimpse into your home. 
Some homes also have windows in the shower structure. While shower windows are not incredibly popular, they do offer many benefits. For example, you can save energy by leaving the light off when you shower in the morning or during the day. The window will illuminate the shower and allow you to bathe in the water and the sunlight. It can also make the area feel larger. Additionally, shower windows make it easier for odors and moisture to escape, saving your home from mildew and mold formation. 
Adding privacy to these spaces is essential for your safety and for keeping your community comfortable. Thankfully, there are many options for adding privacy to your bathroom while allowing you to enjoy natural light. Window treatments and frosting or tinting options are excellent for these spaces. Using different colors and styles, you can reflect your tastes and make your room beautiful. 
You can also mix and match your treatments if you have a shower window and a wall window to enhance your experience. For example, curtains are an excellent option for a wall window but don't make sense in the shower. You might opt for plantation shutters or another treatment to transform your space while adding privacy. 
Window Tinting and Frosting for Privacy
Basic privacy additions can begin with window frosting or tinting. These options require you to modify the window to blur or obscure the image. Here are some popular options:
Frosted spray paint: You can use frosted spray paint to coat your windows to allow the light to enter while maintaining your privacy. It creates an etched glass appearance so outsiders won't be able to see you. However, frosted spray paint is not suitable for constant water exposure, so be prepared to apply multiple coats occasionally to keep the utmost privacy.
Window tinting: Adding a darker color to your windows can enhance privacy. Window tint films are self-adhesive coverings with a lightweight design. You can apply these films to your bathroom and allow them to cure to obstruct the exterior view.
Etching cream: These creams remove a thin layer of window glass to leave a frosted appearance. Etching cream is an affordable and quick option, but you may need to reapply more creams as time passes and your windows experience moisture buildup. 
Glass blocks: Glass blocks are solid pieces that blur the objects behind them. You'll need to replace your existing windows to fill the space with custom glass. The result is an elegant and beautiful final product that allows ample light while preventing others from seeing into your home. 
Bathroom Window Treatments for Privacy
Altering your windows is not the only option you have. Window treatments are a simple, effective and affordable way to enhance your bathroom while maintaining privacy. From shutters and shades to curtains and more, you have the freedom to choose from a wide variety of styles, colors and designs to complement your space. Below, we've listed some of the best bathroom window treatments so that you can find the best choice for your home.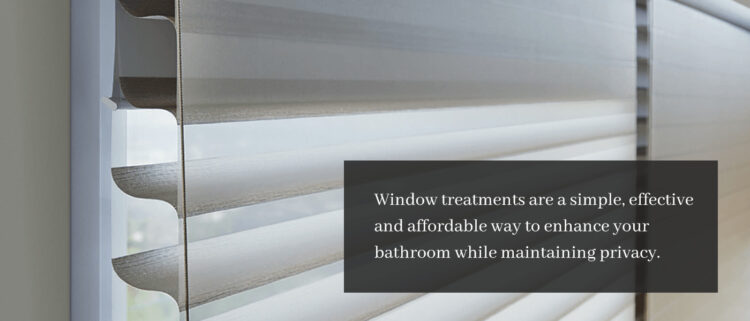 Drapery and Curtains
Curtains and drapery are common choices for bathroom windows. The lightweight, breezy construction of curtains makes them excellent for adding elegant colors and styles while shielding yourself from view. However, although beautiful, sheer curtains often need to be paired with another treatment to provide the amount of privacy you're looking for. 
A more reliable option for longer treatments is drapery. High-quality drapery can create a furnished feel for your bathroom and exude sophistication. Although you won't be able to use drapery in your shower, placing lovely colors over a wall window can create a timeless look you'll love. For additional light control and privacy, you may want to add shutters to your windows to soak in the sun while you shower.
Shades
Shade treatments are an elegant way to control light and airflow quickly. These treatments allow you to lift or lower the covering promptly to boost privacy or illuminate your space. Additionally, these treatments don't have any slats, allowing you to insulate the area better. 
Roman shades offer the ability to control light at any second. They provide a simple and minimalistic appearance, with a neat construction and elegant design. While even the best shades for bathrooms can allow more light than you want through the cracks, Roman shades offer a quick and simple pull or push for the perfect amount of light.
Shutters
Shutters may be one of the best ways to increase privacy while crafting a beautiful space. They offer excellent light control with slats that move up or down to alter the angle for light to enter. With shutters, you can enjoy as much or as little sunlight as you want while remaining hidden from the outside view. 
PVC shutters provide maximum light and warmth control. Our PVC shutters empower you to block UV rays and keep your home at the temperature you want to save energy and money. At Shutter & Shade Shoppe, you can find custom PVC treatments that fit your space and add aesthetic appeal while providing the perfect shield from the exterior.
Wood plantation shutters are another great option for the bathroom. With a similar function to PVC shutters, you can create a beautiful space with a recognizable design. Wood shutters are easy to clean, making them a fantastic choice for homeowners who want low maintenance and high privacy. 
Find Your Favorite Bathroom Window Treatments
Your bathroom can be a functional and beautiful space. Finding quality window treatments is the way to go when you want to control light and maximize your privacy. When you need inspiration, you can find bathroom window covering ideas from Shutter & Shade Shoppe. 
We understand that your home is where all the simple joys of life happen, which is why we want to help you create a space you'll love. We're confident we can find the custom window solution you need. Contact us to request an estimate for your bathroom.