If you're searching for window coverings, you have many options. Should you choose shutters? Shades? Drapes? The right window treatments for your home depend on the shape, size and style of your windows and how you plan to use them. 
To help familiarize you with your options, we're here with information on a popular window treatment — PVC shutters. 
What Are PVC Shutters?
PVC shutters are an affordable, popular choice for window treatments. PVC is polyvinyl chloride, a strong plastic material used in many applications, such as building, transportation, packaging, electronics and health care.
PVC shutters have gained a poor reputation because some contain cheap, substandard materials. However, high-quality PVC shutters are widely available and make a safe, attractive addition to your home.
Common Questions About PVC Shutters
Below are a few questions we often receive about PVC shutters:
Which is better, PVC or vinyl shutters? People sometimes refer to PVC as vinyl, but the two aren't the same. PVC is an upgrade over vinyl because it's far denser and more durable. Vinyl shutters consist of a thin layer of vinyl surrounding a mold. Because they aren't solid, vinyl shutters are prone to fading and cracking, so you'll need to repair or replace them sooner than you would PVC options.
Which is better, PVC or wood shutters? The answer to this question comes down to personal preference. Each material has benefits and drawbacks. For example, PVC shutters are more affordable, durable and easier to clean than wood. Wood shutters offer a more luxurious look and greater versatility, as they can be stained, painted or finished to your liking.
What is better, PVC or wood plantation shutters? Plantation shutters have tilted slats, also known as louvers, which you can open or close depending on how much light you want to let in. The slats sit within their own frame, which is attached to the window sill. You can choose wood or PVC plantation shutters. The best shutter material for you will depend on your needs and preferences.
Are PVC shutters durable? PVC is a hard, dense plastic, making it a sturdy and durable material for window coverings.
Do PVC shutters discolor? High-quality PVC shutters can protect against fading and resist discoloration.
Are PVC shutters better than timber? PVC shutters can mimic the look and feel of real wood shutters. PVC shutters can be an ideal choice if you're looking for a more affordable window covering that can endure wet environments.
Benefits of PVC Shutters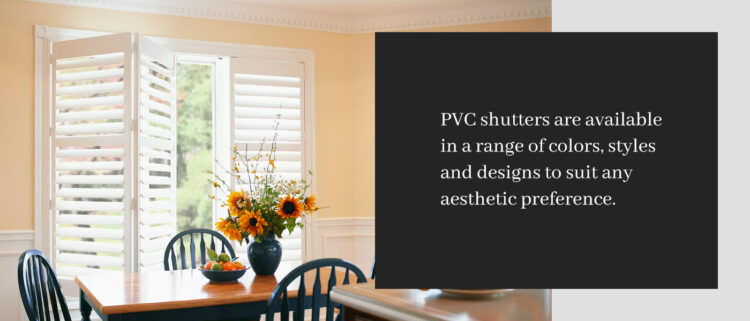 PVC shutters are a smart addition to your home. Explore the following benefits to see what you can enjoy when you choose PVC shutters
Durability: PVC shutters are made from a hardened plastic that is highly resistant to the effects of sunlight, wear and tear. You can rest assured that PVC shutters won't crack or warp over time. 
Longevity: Thanks to their durability, PVC shutters can bring you many years of enjoyment.
Ease of cleaning and maintenance: PVC shutters are resistant to mold and mildew-causing moisture. Cleaning them is as easy as dusting or wiping them with a damp cloth. PVC shutters also require minimal upkeep, thanks to their strength and durability.
Affordability: PVC shutters are typically more affordable than other materials like wood, making them an excellent choice for cost-conscious homeowners or larger homes that require many treatments. 
Customizability: PVC shutters are available in a range of colors, styles and designs to suit any aesthetic preference.
Privacy: PVC shutters can be closed entirely to the outside world, offering you privacy when needed. 
Energy efficiency: PVC shutters insulate your home by acting as a barrier between it and the conditions outdoors. Depending on how you position the louvers, plantation shutters can help your home retain warm air in the winter and cool air in the summer.
Fade-resistance: PVC shutters can be finished with a protective UV coating to help prevent fading from sunlight exposure. 
High moisture resistance: PVC shutters are perfect for wet, humid environments like bathrooms and sunrooms because they are resistant to moisture. 
Styles of PVC Shutters
PVC shutters are available in a range of designs to suit any preference. Below are a few common styles. 
Cafe-Style Shutters
Cafe-style shutters are half-height window treatments. They cover only the bottom half of the window, allowing for privacy, natural light and a view. Cafe-style shutters are called such because they're commonly used in cafes to offer privacy to seated guests.
Plantation Shutters
PVC plantation shutters are popular choices and work well in any room. They differ from regular shutters because their slats, or louvers, are wider. Plantation shutters allow ample natural light to pour in when open, making the room feel airy and spacious. You can close them to shut out light and noise and help maintain a comfortable temperature in the room. 
Louvered Shutters
Louvered shutters have individual slats you can rotate open and closed to manage light and privacy in the room. Whereas some shutters are solid panels, louvered shutters let you control the sunlight and view from your windows without needing to swing open a solid-paneled shutter. You can choose slats ranging from narrow to wide.
Tier-on-Tier Shutters
Tier-on-tier shutters, also known as double-hung shutters, consist of two panels hung above each other to provide total window coverage. You can open the top or bottom shutter independently or together, allowing you to choose precisely how much light you want to let inside. 
Tracked Shutters
Tracked shutters, also called sliding shutters, are guided by a rolling track at the top or bottom of the window. You can roll them away in folds to let natural light in, or pull them closed like a sliding door when you want privacy. Tracked shutters are ideal for sliding glass doors and large windows.
Shaker Shutters
PVC shaker shutters are minimal, solid panels with clean lines and simply designed faces. Shaker shutters provide maximum light blockage, noise reduction and insulation. They work well in bedrooms where you may prefer privacy and less light.
Find Custom PVC Shutters at The Shutter & Shade Shoppe
As a custom design window treatment company, we're dedicated to providing you with unbeatable service and satisfaction. We manufacture our PVC products in the United States, so we can deliver your shutters in a fraction of the time of other businesses. Our PVC shutters are ready to be installed in as little as two weeks. These products are reinforced with an aluminum insert throughout the shutter to prevent bowing, warping and similar issues. This means you can get high-quality and durable PVC shutters in no time. 
In addition to high-quality PVC shutters, you'll find a variety of shades, drapes and wooden shutters to add functional style to your home. Our in-home consultations, measurements and professional installation ensure your window coverings fit perfectly in your space. Contact the Shutter & Shade Shoppe today to request your appointment!