Whether your dog keeps pulling down your curtains or your cat insists on using your drapes as a scratching post, finding the ideal window treatments when you share a home with your furry friends can be an adventure. Determining what coverings would best suit your pet-populated home may take some trial and error. However, you can easily find the right solution with a little research and patience.
If you need tips for choosing dog- or cat-friendly window coverings, you've come to the right place. Continue reading to explore some pet-friendly window treatments for your home!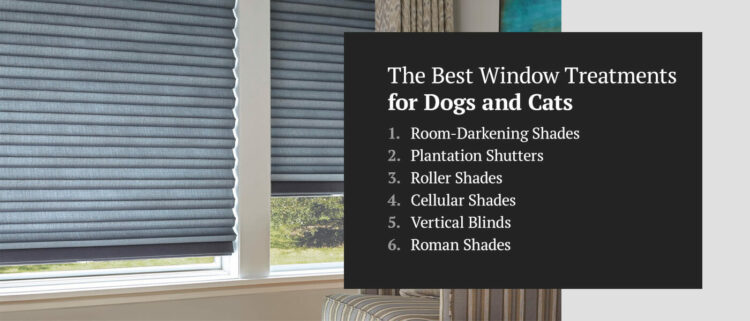 The Best Window Treatments for Dogs and Cats
Every pet has their own quirks and habits. Therefore, a window treatment that works well for one critter may not be the right choice for another. Additionally, cats and dogs tend to behave and react to things differently. This means some window coverings may better accommodate dogs than cats and vice versa. 
Generally, low-hanging drapes are unsuitable for pet-filled homes, as they're easy to climb, scratch and burrow in. Consider out-of-reach coverings instead. Below are some window treatments that tend to work well for homes with pets.
1. Room-Darkening Shades
Do you have an energetic, light-sleeping pet who constantly wakes to play in the middle of the night? Then room-darkening window shades may be your ticket to a better night's sleep. These window coverings are designed to minimize the amount of light entering a room. You might instead consider a light-filtering shade if you'd prefer a thinner fabric that enables some light to pass through.
2. Plantation Shutters
Plantation shutters are well-suited to pet-occupied homes, as they're durable and easy to adjust. They're incredibly thick and sturdy, allowing them to withstand considerable wear and tear. It is difficult for dogs and cats to paw at or force aside these shutters. 
Some wooden or PVC plantation shutters can make a stylish, pet-friendly addition to your space. However, you may want to hold off on plantation shutters if you have a new puppy in their chewing phase.
3. Roller Shades
Roller shades are durable, flexible window coverings made from a single piece of fabric. You can roll up the material to see outside. Roller shades are among the pet-friendliest window treatments. They contain sturdy materials, but your four-legged friend can still easily slip behind them to look out the window.
Many roller shades include cordless lift capabilities, making them great for dogs and cats. Pets won't be tempted to paw or lunge at a dangling cord. Roller shades also have sleek, modern designs with light-filtering and room-darkening abilities. Thanks to their versatility, you can adjust them to unreachable lengths when you aren't home and lower them to ensure privacy when you're around.
The absence of slats and corded ladders means a small pet can't damage or tangle themselves in them. As a bonus, roller shades are one of the easiest window coverings to clean, which is always an attractive feature for pet owners.
4. Cellular Shades
Cordless cellular or honeycomb shades have fabric cells that expand and contract when you raise and lower them. Since cellular shades cover an entire window, dogs typically ignore them, as they don't view them as an obstruction from the outside. You can even train some dogs to nudge the shades open with their noses when they want to look out the window.
Cellular shades can make your home cozier for you and your canine companion. They help insulate your space while reducing glare and electricity costs. They feature the benefits of standard shades while minimizing cold drafts, heat loss and unwanted solar heat gain.
While this window treatment usually suits dog owners, be careful with cellular shades if you have a cat. Their claws can catch the fabric and tear the shade.
5. Vertical Blinds
Pets are naturally curious, constantly looking to see what's outside. If you have horizontal blinds and something outdoors catches your pet's attention, they might paw at the slats and damage them.
Cordless vertical blinds can help protect windows and sliding glass doors from claws. Their slats part easily, allowing your cat or dog to poke their nose through and enjoy the outdoor view without harming the window. They're best for large windows and sliding doors. They also aren't nearly as fun for pets to chew on as other window treatments.
Real or faux wood blinds are durable and robust, making them excellent for homes with dogs and cats. They offer a timeless, rustic charm that can enhance your home's aesthetic. By choosing large slats, you can close the blinds but tilt them open to provide a better view for your pet. This can prevent them from trying to wedge the blinds open to see outside.
Should the slats incur any damage, you can easily replace an individual slat rather than the whole blind.
6. Roman Shades
Made from soft and durable cloth, Roman window shades are another great option for homes with pets. They cover the window entirely and are free of risky cords.
Roman shades feature a single piece of fabric, so there are no slats for inquisitive pets to poke their heads or paws through. The stacked fabric look can add texture, depth and interest to any room. You can even dress up your shades with tiebacks, valances or other decorations to add elegance to your space.
This window treatment provides a safe and streamlined design, unlike those with long, hanging cords. Your pets are less likely to damage shades and windows since they cannot catch themselves in cords.
Roman shades offer many other benefits, as well. They can create a cozier space for you and your pets by providing excellent light filtration, privacy, UV protection and reduced energy costs. They're also easy to clean and maintain. If your Roman shades accumulate substantial pet hair and dander over time, simply go over them with a vacuum with a brush or upholstery attachment.
Choose Shutter & Shade Shoppe for Pet-Friendly Window Treatments
If you're seeking the best window treatments for cats and dogs, Shutter & Shade Shoppe has you covered. Proudly serving Southern and Central California, we design and install custom window treatments to add beauty, function and coverage to any interior.
We have plenty of pet-proof options, from wooden and PVC shutters to intricately woven shades. Whether you have a specific type, color or material in mind or you're starting from a blank slate, our team can guide you each step of the way. Factoring in your budget and style preferences, we can work with you to create a cost-effective, high-quality window treatment for your home.
Let us help you find the perfect pet-friendly window coverings to enhance your space. Reach out to us to set up a free in-home consultation today!