A window treatment is a decorative piece such as shades, blinds, drapes or valances. These accents cover your windows and offer privacy and light control. They can insulate a room and save energy costs while giving your windows an elegant and unique touch. 
When designing your home, it takes consideration to decide which treatments will look the best in each room and whether you should mix and match different ones or keep them all the same. Our guide to window treatment options will help you determine whether you should keep it simple or combine styles. There is no right or wrong way to design your home, but we can help you use window treatments to express your taste and lifestyle. 
Window Treatment Options
Before considering how to mix and match window treatments, you should understand the different types to choose from. Window treatment options include: 
Roman shades: Roman shades were some of the first window treatments ever used. These coverings are durable, soft cloth with an interesting texture and visual appeal. 
Dual shades: Dual shades use high-quality fabric to create a single treatment with opaque and transparent panels. These treatments give you privacy and precise light control. 
Shutters: Shutters allow you to control light and give a layer of insulation to protect against cool breezes and heat waves. These coverings last for a long time.
Roller shades: Roller shades reduce light when drawn but can easily light up your space when you roll them back up. These treatments come in many colors and can blend into your walls or provide a pop of color. 
Woven shades: Woven shades give homes an organic appearance. These coverings are usually made of grass, reed or bamboo and can make a space feel inviting and warm. 
Room darkening shades: These shades will eliminate light from entering a room. Although not always functional in every room, those who need to sleep during daylight hours, have a home theatre or prefer dark rooms can benefit from darkening shades. 
Sunscreen shades: Sunscreen shades will limit the light that comes through but do not entirely block it out like room darkening shades. These treatments come in varying transparencies, so you can always find the best fit for your home. 
Drapery: Drapery can create an elegant and traditional look in almost any room. You can change these coverings throughout the year to match the seasons and tone of your home. 
Each window treatment will offer various light control and privacy protection. You'll find sheer options as well as those that block light completely. Regardless of the treatments you choose, you'll be able to select your color, style, length and patterns for the best option for your home. 
Using Different Window Treatments in Different Rooms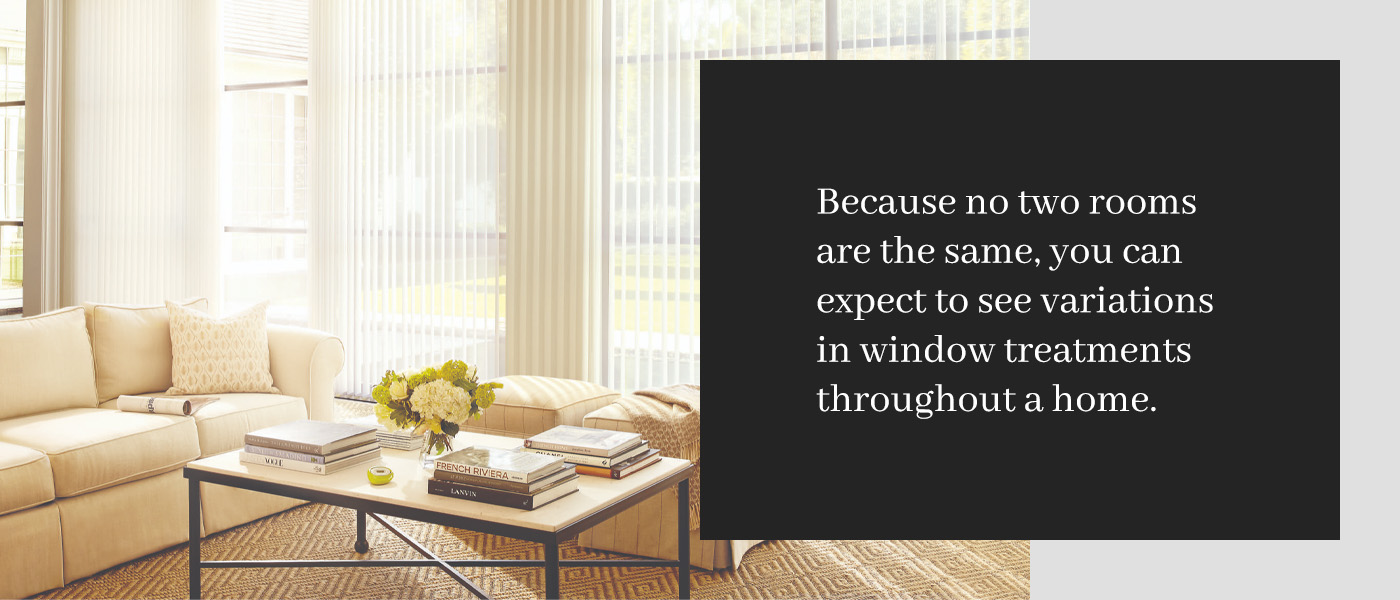 Every room in your home will have a different configuration, and each bedroom, office or playroom will reflect the personality of whoever spends time there. Each room may have a different color on the walls, bright area rugs or vibrant bedspreads that will affect the treatment you choose. 
Because no two rooms are the same, you can expect to see variations in window treatments throughout a home. Realistically, not all of your window treatments need to match, but you should be aware of how they may affect your curb appeal. 
Many designers will prefer to use the same treatments in every room unless one is unique because it makes a house look like one entity, and no window will draw more attention than another. You should try to utilize the same window treatments for the windows facing the street. This choice will help make your home look more uniform. You can still create a personalized or layered look for each room by using different colored curtains over uniform blinds or using other treatments on windows that face a side yard or back lawn. 
How to Mix and Match Window Treatments in the Same Room
If you're looking for some guidance to create the best styles possible, there are a few ways you can achieve designer looks and still showcase your tastes. You can mix and match window coverings in the same room by using some of the following techniques. 
Combining Sheers and Shutters 
You can use shutters and sheers to insulate a room, easily control light, reduce noise and add a soft touch to your space. Using sheer curtains will give you flexibility over how much light comes into your room, while shutters will keep some of the outside air from entering your area. This selection is also a great way to ensure your home's exterior looks cohesive from the street. 
If you have a mix of small and large windows, you can use shutters and shades to create unique focal points. On small windows, shutters will give you quick privacy with neutral colors. A colored shade that matches the room's interior will make a pop of color and cohesiveness on your more oversized windows. Additionally, you could opt for wood shutters and use a neutral curtain shade over them for a soft ambiance. 
Going Neutral
Sometimes, keeping your treatments neutral is the right choice. If you want your treatment combinations to go unnoticed, choosing a white or soft gray in a room full of accents or colors will pull the space together rather than create a distraction. 
For example, if you have a fun and vibrant bedspread and pillows, you already have your statement pieces. You could use a small white curtain for the windows on either side of your bed to avoid them blocking your lamp, night table or other objects. Then, on the windows in the rest of your room, you could opt for white shades or blinds for a mix of treatments that won't distract your guests. 
Using Contrasting Colors
Contrasting colors are those at opposite ends of the color wheel. Color combinations like peach and mint, lavender and pale yellow, or blue and orange will appear the most vibrant when you pair them together. You can use these contrasts to create unique spaces with your window treatments. For instance, for a room with peach walls, you could pair mint sheers and pillows for a youthful bedroom or sitting room. 
You could also use room darkening or sunscreen shades on your windows and use contrasting drapes over them. Because the shades will be more neutral, use your drapes to match your accents. Furthermore, if you find shades that match your wall color, you can create a unique look that almost makes your windows disappear. Sheer, colored curtains on top will create a designer look that draws your guest's attention. 
Aligning Your Treatments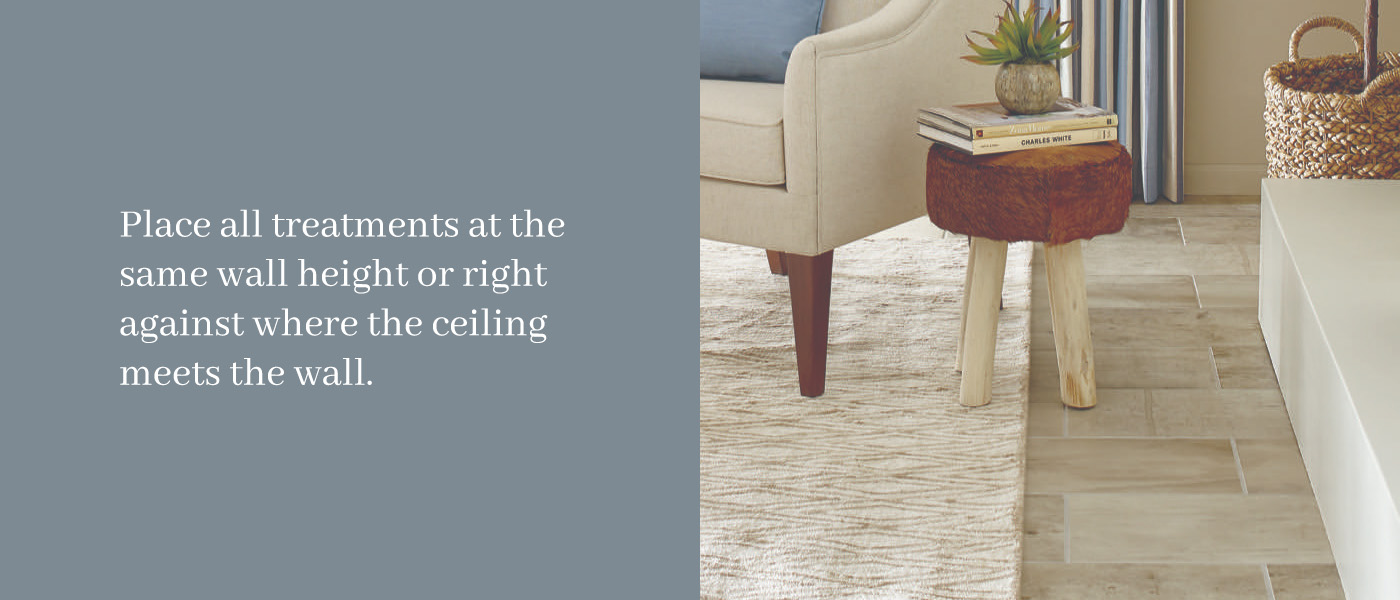 Make any room look more symmetrical by aligning your treatments. Although some treatments may fit directly against the window, others may need to be higher than the window. You want to avoid showing the top of one window and covering the top of another. Instead, place all treatments at the same wall height or right against where the ceiling meets the wall.
For example, you may want to have Roman shades covering windows on one wall and drapes covering your sliding glass door on another. In this case, you can keep your room looking perfectly angled by ensuring the tops of each treatment are at the same height. 
Using Stripes and Patterns
Your windows or glass doors might overlook a gorgeous scene in your yard or a scenic view over a rolling hill. If you want to lead your guests' attention to the open air, use accent pieces to draw their interest to the treatment pattern and then through the glass. 
Use bold colors and patterns to highlight your gorgeous greenery or spacious views. Stripes are a common pattern in kitchens, and you can use them on a small window over your sink or the sliding glass door by your dining table to draw attention. If you have a rug in the same room, try to mesh your patterns to create a cohesive pop of color that makes the space feel cozy. 
Bold solid colored drapes covering French doors and a small patterned curtain can make any room feel harmonious. You might even use a patterned treatment over one window in a room and a solid treatment with a matching color on another window.
Layering Treatments
Two treatments on the same window can create a beautiful layered look that adds character and elegance to your room. When choosing the treatments to layer, the idea is to have a decorative piece over a permanent one. For instance, you may have shutters on your windows all year long, but you may change the curtains as the seasons change. 
Remember that layered treatments are not always going to be the best choice for every room. Using large drapes in a small space can make it feel crowded, and dark curtains can make an otherwise open room feel closed off. 
Plan to layer all windows on the same wall with the same treatments. This should be the case regardless of the style method you use, but it is especially important when layering. It will be obvious to you and your guests if one window has long curtains over blinds when another on the same wall has only shutters. 
If you use the same permanent treatments in every window and pair them with personalized coverings on top, your home will look perfectly styled on the outside while giving you the freedom to customize each room. 
Benefits of Custom Window Coverings
Finding the right window treatments and integrating them into your home takes time. Thankfully, you don't have to do it on your own. There are many benefits of custom window treatments, and you should consider speaking with a professional to learn more about how assistance and installation can transform your home. 
Benefits of custom window treatments include: 
Professional advice: A treatment professional will be able to give you valuable insight into what window accents will work best in your home. They'll be able to answer your questions and provide expert advice.
Precise measurements: Treatments straight from the shelves have limited size availability, but not all of your windows are the same. A professional will measure your windows and offer treatments that perfectly fit your space.
Custom detail and colors: Whether you're looking for a unique flowing pattern or a specific shade of pink, you can design a treatment you'll love when you opt for custom service. Instead of settling for colors too light or dark, you can ensure you find the perfect match. 
Quality workmanship: For high-quality treatments that will last, you should invest in coverings that feature durable materials and perform the best. 
Material variety: Treatments from a store have limited fabric alternatives. You may love the look of wood shutters but aren't seeing ones that call out to you. When you request a custom treatment, you'll be able to control the material. 
Enhanced privacy: You might want sheer fabrics for one or two windows in neutral settings, but you may purchase a material that is too thin when you choose a store treatment or find one online. Custom coverings will be tailored to your preferences to ensure you keep your spaces private. 
Energy efficiency: Window treatments can save you energy by insulating your rooms. Low-quality coverings won't perform nearly as well as high-quality materials. When you opt for custom creations, you can select what you want to help save on energy costs. 
Your home is a direct reflection of you and your preferences. At Shutter & Shade Shoppe, we'll listen to your needs, wants, and preferences to find the best treatments for your home. Our shutters and shades will let you control the light in your home and create beautiful accents in any space within your budget. Custom treatments will perfectly fit your windows, giving you a unique result every time because we know that every room and home is different.
Custom Window Treatments From Shutter & Shade Shoppe
Shutter & Shade Shoppe is a window treatment provider in Orange County, California. We proudly serve areas in central California, including Orange County, Los Angeles County, San Bernardino County, and surrounding areas. Being located in one of the sunniest places to live, we know how important it is to have control over your light while still being able to enjoy the natural landscapes, wildlife, and ocean views. 
Our treatments are custom-made to fit the size and shape of your windows, so you receive personalized service and unique coverings every single time. Our treatments will fit your window perfectly and can transform your home with beautiful designs and accents. We can help keep your home comfortable while adding value and personality to every room. 
Contact Shutter & Shade Shoppe with questions or schedule a consultation for your windows.