As winter months quickly approach, there is no time like the present when considering window treatments. With a few simple window treatment options, you can transform your living spaces into a cozy den, bright reading nook or other stylish rooms that fit your needs and aesthetics.
Make the most of your favorite rooms in the home with shades, shutters and drapery. Let's review how to choose window treatments to transform your space.
Consider Your Window Needs
Using window treatments to transform a room starts with determining the space's purpose. Window treatments can help trap heat during the colder months, offer privacy from nearby neighbors or give your living spaces extra flourish.
Before picking out stylish shades or drapery, ask yourself the following questions:
Does the room face other houses where neighbors can easily see inside?
Do you want to transform your open space into a more private setting?
Do air drafts easily make their way into your rooms from the windows?
How much natural light do you get?
Do you want to enhance the style in your favorite rooms?
Depending on your answers to these questions, we can find new window treatments for your home that offer privacy, warmth and style with ease.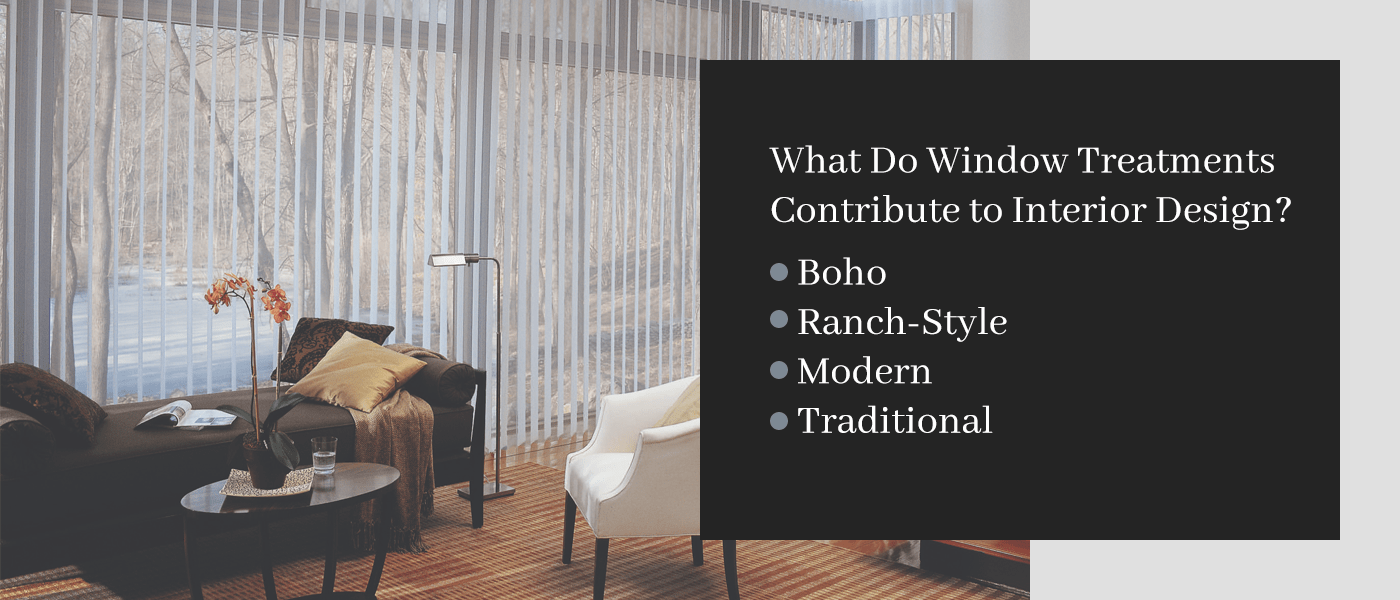 What Do Window Treatments Contribute to Interior Design?
Even if your top priority is privacy or trapping heat, you can still transform your living spaces into stylish and cozy nooks for you, your family and your guests to enjoy. Several colors, sizes and styles conveniently fit any window type in your home.
With Hunter Douglas selections, interior design and window treatments go hand-in-hand to fit all of your styling and maintenance needs. Any interior design theme in your home can easily complement the convenience and style of Hunter Douglas window treatments.
Consider how to style window coverings with your home's interior design:
Boho
If you love the feeling of reconnecting with nature and bohemian-chic decor, Hunter Douglas Parkland Wood Blinds are perfect for enhancing this theme in your living spaces. The solid hardwood slats help keep out natural light to create a relaxing atmosphere in your favorite rooms that come in a cord, remote and bottom rail lifting movement.
Ranch-Style
For the rural and mountain-loving family, Providence shades with handwoven materials such as reeds, grass and bamboo bring the outdoors inside. These stylish window treatments diminish the natural light coming through the window, offering comfortable warmth throughout the room. With several sizes and colors to choose from, you can place these shades in bay windows, doors, angled windows and wide expanses.
Modern
Large, ceiling-high windows are common focal points in modern-styled homes. When these open-view concepts are around your house, it can feel spacious yet easy for others to see your living spaces. To create the ultimate privacy without sacrificing style, use wide Luminetter Privacy Sheers for your rooms. These shades are excellent for limiting wandering eyes and sunlight in your home while offering a modern look to your favorite indoor spaces.
Traditional
If your home embodies the natural feel of a family-friendly atmosphere, there is no limit to the stylish window treatments you can install in your favorite living spaces. No matter the theme in your cozy abode, custom interior window drapes can fit any aesthetic because you have the creative freedom to pick out the fabrics, colors and sizes you desire. You can enjoy drape styles that fit any interior design in your home while also benefiting from energy-efficient and sun-filtering materials that lower the costs of utilities year-round.
Do's and Don'ts of Window Treatments
As inspiration strikes, it's essential to consider a few ideas to ensure you and your home benefit from the right window treatments that fit your needs. Read along with common do's and don'ts that accompany the shade shopping experience:
Do's
Consider the following factors when planning to install window treatments in your home:
Do choose drapes that reach the floor: Drapes come in several different lengths to fit the size of your windows. Some homeowners choose window treatments that only lower to the windowsill, which can let cold temperatures easily reach the rest of the room. Keep chilly air out and warm temperatures in by measuring from the top of your window to the floor.
Do select a matching shade color palette: To create a stylish blend of your interior design colors and patterns with the drapes you love, you can create a color palette that makes it easier to choose coordinating hues. If your living spaces have warm tones such as red, yellow, orange, brown or cream, consider drapes or shades with the same colors. The same goes for rooms with cool tones, including blue, purple, green, gray or pink. This simple step can tie the whole space together for a seamless design.
Do consider curb appeal: You don't have to stop at only transforming your interior space. You can also choose drapes or shades that also increase your curb appeal. Assess your exterior colors, materials and designs and choose window treatments that match your indoor living spaces and outdoor aesthetic. Tie the whole house together and enjoy the admiring looks of neighbors and passersby.
Don'ts
There are also a few factors to avoid when using window treatments to transform a room. Pay attention to these "don'ts" that can impact the quality of your shades:
Don't settle for cheap blinds: While plastic blinds from the store might be a convenient shopping option, you will need to maintain and replace these shades more often than high-quality window treatments. Choosing versatile window treatments that balance quality with timeless style lets you love the look of your home without needing new shades every few months or years.
Don't sacrifice privacy for style: Some homeowners who prioritize privacy choose blinds that block the view of nosy neighbors, but the aesthetic does not entirely match their interior design. Fortunately, you can choose from several shade options that balance privacy and aesthetic appeal. While others cannot look into your home, you can enjoy an excellent view of your stylish shades that complement its theme.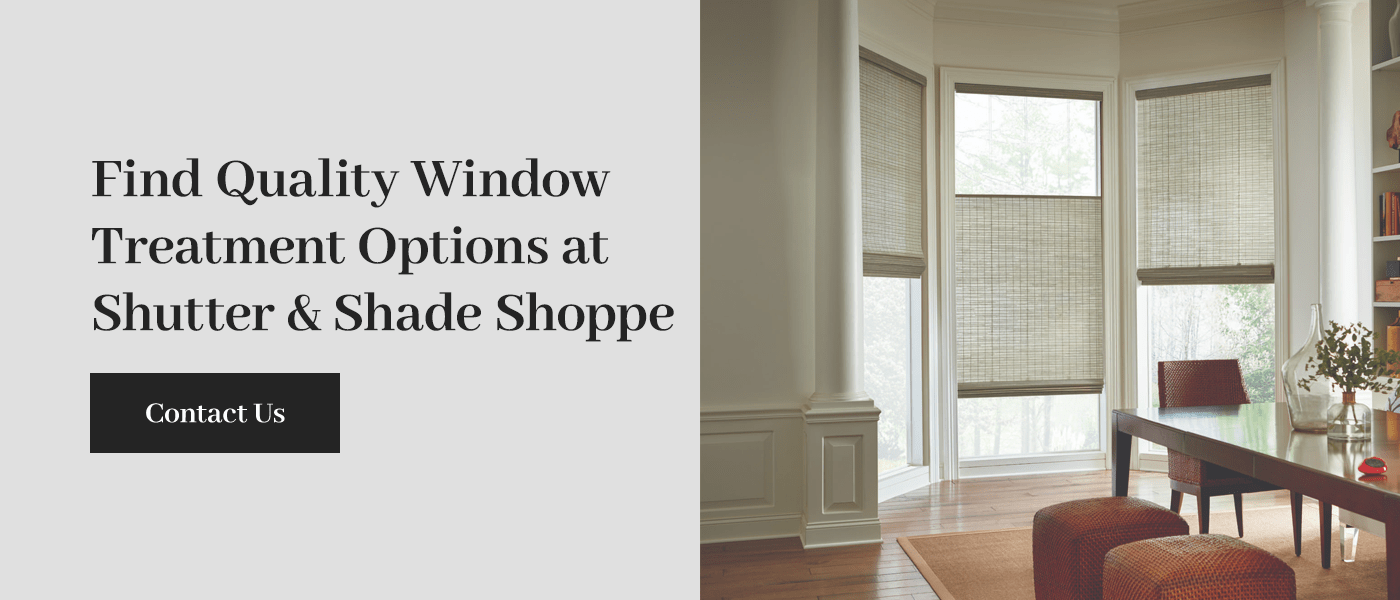 Find Quality Window Treatment Options at Shutter & Shade Shoppe
For new window treatments with effortless style that can transform your living spaces, look no further than shades and drapes from Shutter & Shade Shoppe. We prioritize offering high-quality and aesthetic shades, drapes and shutters that look effortlessly beautiful in your home.
During your free consultation, one of our experts can measure your windows and discuss the most desired features for your window treatments. With these considerations in mind, we can create custom-made shades that transform your rooms into enjoyable spaces for you, your family and your guests.
Contact us today to start finding the perfect new window treatment options for you!