Updating your decor is the perfect way to freshen up your home. Whether you have embraced minimalism for years or want to make the switch now, enhance your efforts by starting with window treatment changes. Minimalist window treatments add a touch of elegance to your house while meeting your style needs.
To help you decide which window treatments suit your minimalist designs the best, we've curated a guide that covers everything you need to know about creating a minimalist home with window treatments. We explore the key elements of minimalism for interior design and what to consider when looking for new, timeless window treatments.
What Is a Minimalist Window Treatment?
A minimalist window treatment embodies the spirit of simplicity and functionality. The window treatments, from style to color, ensure your windows remain functional while offering a classic style that helps tie a room's aesthetic together.
Key Elements of Minimalism
Minimalism is about simplicity and keeping your lifestyle and spaces calm and balanced. When you want to adopt a minimalist style for your interior design, understanding the key elements of minimalism will help you reap the benefits. Some characteristics of minimalist design include:
Strong focus on functionality
Clean and simple lines
"Less is more" mentality
Efficient use of space
Monochromatic color palettes
Ample natural light
Uncluttered spaces
You can follow the elements of minimalism while choosing new window treatments for your house.
The Role of Minimalist Window Treatments
While minimalism strongly focuses on clean and decluttered spaces, the decor you include in a room plays a significant role in establishing the atmosphere for the environment. Window treatments can be a foundational element for minimalistic decor in any space. The right window treatments:
Begin design ideas: When you do not know where to start when redesigning a room for minimalism, consider the window treatments. Simple window treatments for a minimalist space are often the best place to start because they are a blank canvas. You can build the rest of your design around the treatments.
Complement other home features: Many minimalistic window treatment styles can complement other elements in your home, from the unique light fixtures to the floors. You can install more subtle shades to make the room appear bigger or direct attention to a statement piece in the room.
Create peace: A simple and clean space can help you feel relaxed when you come home. The type of treatment you add to a window, whether drapes, shades or blinds, elevates the atmosphere and creates a sense of calmness.
Evoke timelessness: Monochromatic colors, functionality and simple lines keep your window treatments efficient and timeless. You save time and money when you have pieces that work with any room design or decor.
Factors to Consider for Minimalist Window Treatments
Your style influences the way you decorate the spaces in your house. When you want to install simple window treatments for minimalist areas, consider a few factors before starting the redesign, including:
Color
Minimalism values monochromatic and neutral colors. The colors you choose for your window treatments will vary depending on the feeling you want to evoke in a singular space or throughout your home. Popular colors include shades of white, gray and blue. Light colors like white or gray window coverings can help make a room seem larger than it is. They can also remain subtle enough so guests' attention focuses on the other features in the room.
For a pop of color, blues, greens and other earth tones are excellent choices. Keeping the window coverings the same color throughout your home adds a unique touch to the overall design while maintaining a sense of minimalism. Alternatively, you can mix and match window treatments throughout your house.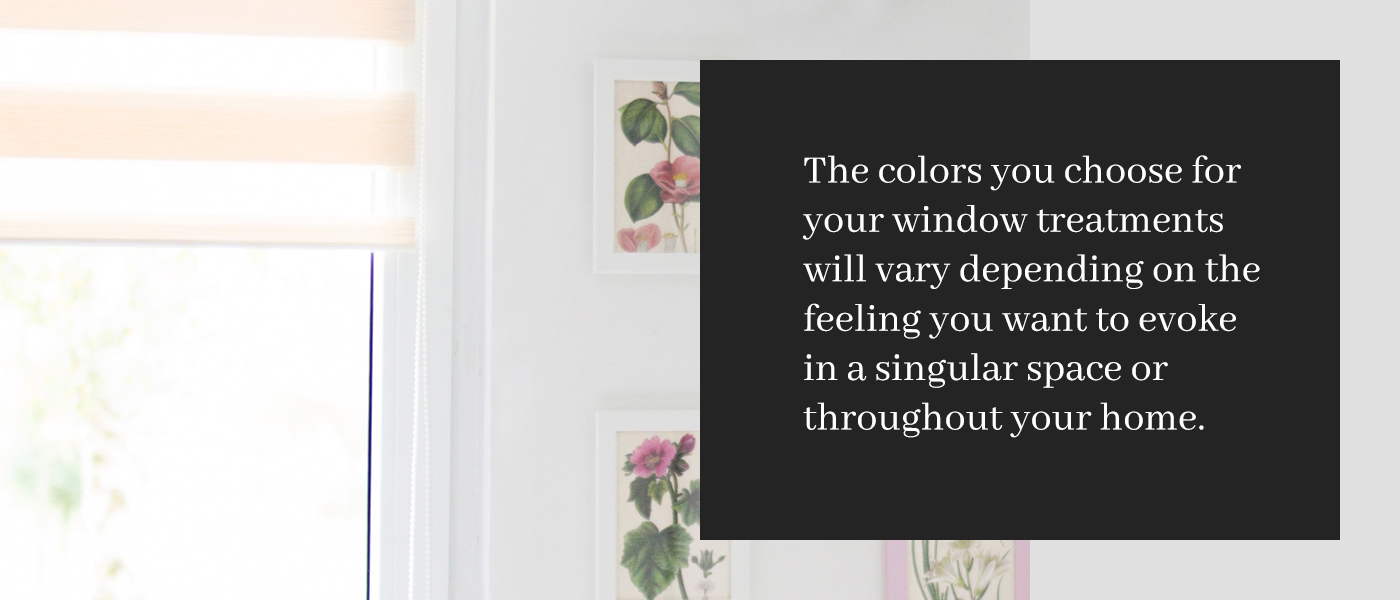 Pleat Style
Drapery and shades are a popular yet simple window treatment perfect for the everyday minimalist. Make your drapes and shades unique by choosing pleat styles that match your aesthetic. Common minimalistic pleat styles include:
Pinch: Pinch pleat drapery features tightly gathered and sewn vertical folds that extend the length of the curtain.
Boxed: A box shape is created by folding a loop into the drapery and flattening it.
Tailored: Tailored pleats gather at the top of a window treatment and flow freely toward the bottom.
Flat: Flat drapery features no pleating for a fluid and minimalistic look.
Pleats can add a subtle texture to the decor in your home, ideal for those who are just starting out in the minimalist design scheme.
Hardware Style and Finish
While certain shutters and shades may not have visible hardware, other window coverings, like drapes, rely on a rod to hang correctly. You can continue embracing minimalism by choosing rods with sleek designs and simple finials, such as a basic sphere or square at the ends of each rod.
The finish of the hardware can remain simple, as well. The primary purpose of the rods is to make the window coverings functional. Choose between finishes like matte black, brass or bronze to add a touch of color without taking attention away from the room's other elements. Try to select hardware styles and finishes that match what you already have in your space to enhance the minimalist design.
Window Dressing Ideas for the Minimalist Home
Now that you understand some of the basics of minimalist window treatments, you can begin searching for the best styles that suit you and your home. Here are some simple window treatment ideas for your minimalist home:
1. Install Roller Shades
Roller shades are perfect for homes with a minimalistic style. They are compact, helping you make the most of your window and room space. The shades often are available in various earth tone colors and with sleek hardware options. With simplicity and functionality at the forefront of the design, roller shades make excellent choices for minimalist window coverings.
2. Embrace Clean Lines
Ensuring a space offers a clean appearance is an essential aspect of minimalism. You can find simplistic window coverings that offer clean lines for a timeless look in your home. Flat pleat drapery, simple rods and hardware or modern Roman shades all offer limited or straight lines.
3. Mount Hardware to the Ceiling
You can create a polished and calm atmosphere in a room by installing your window covering's hardware to the ceiling to create a recessed look. Concealed hardware helps keep the focus on your drapes or curtains while taking up less wall space. High ceiling curtains also make a room feel bigger.
4. Customize Window Treatments
You can create custom window treatments to meet your minimalistic style needs. From the color and texture to the materials and hardware, you have control to choose warm and inviting pieces that open up a space.
Schedule a Free In-Home Window Treatment Consultation Today
Choosing the right window treatments is crucial when you want to maintain a minimalistic style at home. Find a diverse range of minimalist window coverings at Shutter & Shade Shoppe for the next time you want to redesign the spaces in your house.
We offer high-quality design options to help you achieve your desired look. Our experienced team will ensure you receive coverings that fit and complement your windows. Contact us today to learn more about our minimalist window treatment offerings or schedule a free in-home consultation.