Window treatments can add style, personality and flair to any space. You can enhance your décor, increase your curb appeal and add functionality to an area by finding the right window coverings for each of your rooms. Simply replacing worn coverings with new ones can add a touch of elegance to your home. However, finding the right treatments isn't always as easy as it sounds. There are many window treatments on the market, and each has its own style, elegance and function that can enhance or diminish your home. Even once you've decided on a type of treatment, you have to sort through color options, styles and textures to find the best choice for you. At Shutter & Shade Shoppe, we know this process can be complicated, and we want to make it easier while helping you find the treatments you'll love. Check out the do's and don'ts when choosing window coverings so you love your space and can enhance its beautiful features.
1. Choosing the Wrong Size
Many homeowners make the mistake of choosing to complete this process on their own, but do-it-yourself solutions often lead people to measure their windows incorrectly and select treatments that are too big or small for their space. 
Windows vary in shape, size and depth, making it challenging to find the perfect fit. With the wrong measurements and treatments, you can experience light gaps and other non-functional issues that take away from your space. 
Drapery, in particular, can be difficult to shop for as low rods and hemmed panels can significantly impact the overall look. When you open your drapes, you want them to fold nicely on either side of your window rather than swamp the corners and jumble together. Professional installation will be your best bet for finding the best treatments that fit your window and transform your space. 
2. Opting for the Wrong Hardware
One of the most common mistakes when choosing window treatments is opting for the wrong hardware. Many people don't consider how this can look alongside their decorations and stand out against colors. Additionally, choosing the wrong hardware can lead to damaged walls after prolonged use and poor installation. 
There are many styles of hooks, curtain rods, finials and more, but not every option will be suitable for your home. Traditional aesthetics combined with modern rods can make them look plain or boring. Chrome lighting can make a bronze rod look out of place. You should be intentional about the hardware you choose and ensure it can bear the weight you need. Asking a professional for advice and installation will be the best way to find fitting hardware to save your walls from harm and create an eye-catching visual.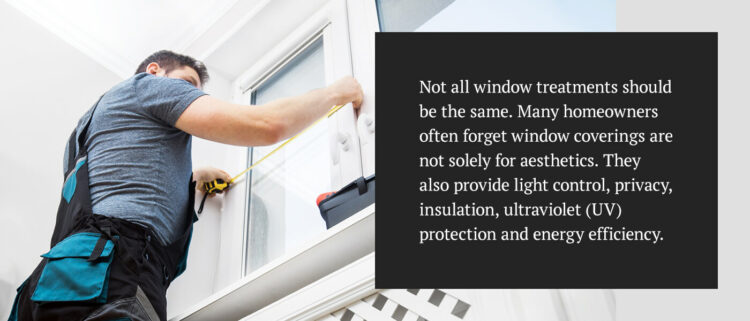 3. Forgetting the Functionality
Not all window treatments should be the same. Many homeowners often forget window coverings are not solely for aesthetics. They also provide light control, privacy, insulation, ultraviolet (UV) protection and energy efficiency. Adding the same window treatments to every room will likely diminish your space. 
For example, you might love the look of light, sheer fabric in your living room or kitchen, but these options will reduce privacy in spaces like the bathroom or bedroom. Additionally, you would want to avoid blocking sunlight in a home office or dark rooms or hide a picture-perfect view with heavy, dark treatments. 
4. Neglecting Curb Appeal
While window treatments will impact your home's interior, you should also think about how they look from the exterior. You should give rich colors a second thought when you're placing them on windows facing the street. Nudes and pastels might look great in nursery rooms but can clash with many exterior colors and make areas of your home look washed out. You can still get creative by mixing window treatments in the same room, but consider saving bold colors and textures for the windows fewer people will see from outside. 
Furthermore, your exterior has an aesthetic as well. Sheer curtains likely won't match wood exteriors, but wood blinds or plantation covers could be the perfect match. Contemporary homes with large windows, geometric designs and angled roofs might best pair with honeycomb shades or vertical blinds. 
5. Overlooking Safety Risks
You should never sacrifice safety for aesthetics. Many common household products, including some window treatments, are unsafe for pets and children. Horizontal blinds with long cords can pose a strangulation risk for playful children or curious animals. Chains, lifting hoops, pull cords and inner cords can become the most dangerous parts of window treatments, so you should always consider which ones will be best suited for your home and family. 
Additionally, window coverings can also ensure your privacy and keep you and your loved ones safe from outsiders. There's a time and place to use light sheers and draw the drapes back. In places like the bedroom and bathroom, you should consider treatments that will close the outside view into your home when you need privacy.
6. Ignoring the Room's Décor
Common window fashion mistakes can leave you with a room that doesn't create a welcome space or enhance functionality. Of course, you want your room to look picture-perfect and reflect your taste and lifestyle. Combining colors, textures or fabrics that clash can create a messy feel that diminishes your overall aesthetic. Meanwhile, keeping your decorations, furniture and lifestyle in mind can create a comfortable and elegant space you love. 
7. Leaving Windows Bare
If you like unencumbered visibility to the outside, you might be tempted to skip window treatments altogether. However, this is one of the biggest window treatment mistakes. Keeping your home's windows bare can impact your family's sense of privacy and reduce your home's energy efficiency. 
A lack of treatments can also make a room feel empty and uncomfortable. New window coverings are one of the best ways to transform a space, and finding the right ones can act as a work of art, delightfully drawing your eye to beautiful colors or patterns. 
Find Window Treatments From Shutter & Shade Shoppe
At Shutter & Shade Shoppe, we pride ourselves on our unbeatable service and satisfaction. We're a custom design window treatment company that understands the importance of creating a loving and welcoming space to enjoy company with family and friends. We offer a wide variety of shutters and shades to fit any window design. 
Choosing window treatments can be simple and easy when you ask for help from Shutter & Shade Shoppe. Our expert staff is always happy to help answer questions about installation or design so you can enjoy comfortable and personalized window treatments within your budget. Contact us today and discover what we can do for your home.