When it comes time to freshen up your home decor, upgrading your window treatments can make all the difference. Window coverings can express your unique taste and lifestyle along with so much more. Shades, blinds, drapes and valances provide privacy, light control, energy savings and a touch of elegance to any space. 
To help you decide which window coverings are right for you, we've gathered a list of the top 10 window treatment trends today, as well as past and future trends. We'll break down the best styles for each room, from curtain ideas to popular shade options, while showcasing the most timeless window treatments for your home. 
Top Trends for 2022 
In keeping with today's window treatment trends, designers suggest simple, functional options. These treatments will bring your decor style and furnishings to the forefront.
We've gathered the top 10 window covering trends for 2022 to help you start your decorating journey. Whatever your personal style, you're sure to find the ideal curtains that match your preferences and enhance the look and feel of your home:
1. Natural Materials
So, what is the newest trend in window treatments? This year, sustainability and earth-friendly styles are the way to go, with all-natural floor-to-ceiling interior designs to match these preferences. 
2022 has seen a rise in natural materials, from woven shades and wooden shutters to real and faux wood blinds. These materials blend seamlessly with the year's trending colors and styles, making them the perfect look for any space. Lighter woods help create a calming atmosphere and are more popular than darker woods, especially for window coverings. 
2. Roller Shades
Roller shades remain an undeniable leading window treatment trend in 2022, primarily due to their minimalistic style. They're available in various earth tone colors, textures and hardware options, making them ideal for the current naturalist interior design trend. 
Hunter Douglas window treatments and shades are also popular. Their Parkland® Wood Blinds are the perfect choice to transform your home with warm tones and natural beauty. 
3. Plantation Shutters
Plantation shutters are another current trendy window treatment. In addition to providing character and elegance, these coverings are effortless to operate — simply rotate the slats open or closed while the shutter remains over the window frame.  
You'll find plenty of wood and faux wood plantation shutters that look amazing in any interior. Choose from moisture resistance to light control and even insulated options for your comfort. 
4. Roman Shades
What is the best window covering of the year? While several options offer style, functionality, privacy and comfort, the classic look and clean, simple lines of Roman shades make them 2022's top contender.  
These stylish window treatments are ideal for their ability to let in light while maintaining privacy. Pairing them with panels provides a pop of color and texture that makes a statement. If you're looking for simple and clean, choose Roman shades for your home. 
Hunter Douglas window treatments — more specifically, the Vignette® Modern Roman Shades — are a favorite this year with their elegant look that accentuates your windows and creates a warm, welcoming space. 
5. Drapes and Layers
Drapes are timeless window treatments that you can dress up or down without losing functionality. While drapery panels are not new, drapes never go out of style and this year has shown a rise in homeowners using multiple colors and textures to dress them up. 
A popular interior design choice is to layer drapery atop blinds or shades. Layering provides light control and a rich, elegant look that lends itself well to formal living rooms. When deciding on a color, designers recommend curtains in beige, dark blue, brown, purple and chocolate tones. If you want to add lightness to a space, lilac, peach and delicate blues are among the year's favorite choices.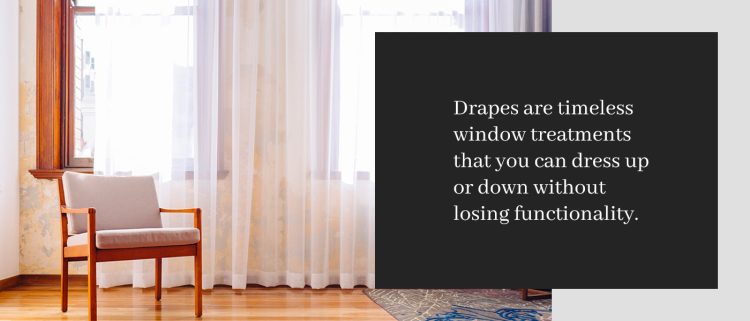 6. Clean Lines 
While minimalism and simplicity are key this year, clean lines are timeless. Interior designer wisdom is to use concise, clean and simple lines in the living room. 
The living room is the space your guests will often see first and creating an excellent first impression there sets the tone for the rest of your home. Using clean lines ensures a comfortable, inviting space to impress your guests while making them feel relaxed and at home. 
7. Florals and Stripes in the Kitchen
Kitchen curtains with patterns, such as stripes or florals, are ideal for hiding kitchen grime and other imperfections. If your kitchen sees a lot of use, choosing machine-washable curtains is an easy way to keep everything looking fresh. 
Sturdy fabrics that do well with regular cleaning are ideal in this space. Patterns can also add personality to the simplicity of your cabinetry and appliances. 
8. Combined Treatments 
The family room is a perfect space to combine curtains and woven blinds. You'll create a natural aesthetic and an on-trend bring-the-outdoors-in atmosphere. If you're looking for a sustainable approach, vintage elements can make your space unique. Thrift stores and estate sales can yield retro treasures at bargain prices. 
The family room is often a gathering place to relax with friends and loved ones. Enhance this intimate space with a mix of window treatments that offer privacy and decorative flair to make it both trendy and one-of-a-kind. 
9. Light-Filtering Curtains and Shades in Bedrooms
The best way to let in light during the day while maintaining privacy is to combine sheers with room-darkening shades. While room-darkening shades can look heavy, adding sheer curtains allows beautiful, natural light throughout the day. When you're ready for quality sleep, simply pull the shades down.
Whether designing a bedroom, kid's room or guest bedroom, controlling the light and temperature ensures your family and guests sleep soundly. You can achieve these goals by creating quality sleep zones with thermal, room-darkening shades. These shades provide almost total darkness, providing privacy and control over outside light. They also absorb ultraviolet rays, helping you keep your bedroom cool for ideal sleeping conditions.
10. Shades for the Home Office
Choosing shades or blinds for the home office provides optimal light control. Roman shades, roller shades and wood blinds are available in various styles, materials and colors to match your preferences.
Creating a private, sound-controlled workspace is essential as more people work from home. These spaces can also double as guest rooms or other living spaces, making it vital to provide the best comfort level according to the room's uses. 
Light control is essential for those Zoom calls and other important meetings. Adjustable shades are the best solution to manage these virtual communications and help you focus. 
Popular Trends From the Past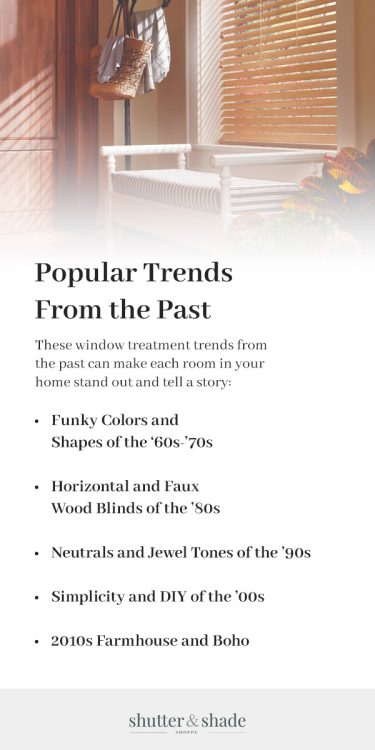 Gathering inspiration from the past and incorporating it with current trends can give your home a unique look. These window treatment trends from the past can make each room in your home stand out and tell a story:
Funky Colors and Shapes of the '60s-'70s
Geometric shapes from the art deco style of the '20s inspired looks in the '60s and '70s, this time in bright, funky colors from hunter green to burnt orange. Aluminum mini blinds also began to gain popularity at this time. These blinds were affordable, came in bold colors and had a 'new age' look. 
Vertical blinds reached the public at large in the mid-1960s and gradually grew in popularity. With marketing that sold them as easier to clean than fabric window treatments, they worked well for the large windows and sliding doors in many mid-century homes. 
Horizontal and Faux Wood Blinds of the '80s
Horizontal blinds became a timeless window treatment in the '80s, as did matchy-matchy wallpaper and furniture. Mini blinds were quickly becoming a staple, and faux wood blinds were an affordable alternative to natural wood. 
Neutrals and Jewel Tones of the '90s
While fashion popped with neon colors in the 90s, home decor stayed neutral. People also began to develop an interest in vintage finds and mixing styles. Homeowners might have French country-inspired kitchens and another room with mixed wood tones. Windows often had dark stained trims and lighter oak-colored wooden blinds. 
Jewel tones also gained popularity this decade, with burgundy or hunter green drapes found in several homes. Sheer shades often added a soft texture that accentuated the style. 
Simplicity and DIY of the '00s
With a turbulent housing market in the early 2000s, many people stuck to neutral colors and faux wood blinds to make their homes easier to sell. DIY decorating became popular in the early 2000s, bringing bold statements, sponge-painted walls and bright colors to the forefront.  
While many opted for fun DIY accessories, others stuck to beiges and off-whites. The 2000s were when simple, clean minimalism became a mainstream trend.
2010s Farmhouse and Boho
With the rise of social media platforms like Pinterest, home decor ideas and inspiration became more accessible. The 2010s saw a surge in interior farmhouse shutters and boho woven wood shades. Grays replaced off-white and beige as the popular fresh neutrals. Soft pinks and pastels also began to appear as common interior design colors.
Textile printing advancements also introduced chic and elevated roller shades. Roller shades came in larger sizes with various patterns, from damask to geometric lattice to new polyester blend fabrics. 
Future of Window Treatments
The future of window treatments comes in the form of matching wallpaper and drapes, dramatic and playful curtain ideas and high-tech shutters and shades.
Add these features to your home to stay ahead of the curve: 
Cohesive Patterns
While it might seem like a design faux pas, combining small cohesive patterns is easy on the eye and stylish all at once. Matching wallpaper and furniture is a trend that will likely keep growing. 
Blending matching curtains, bedding and pillows creates a gorgeous bedroom backdrop. Break it up with colorful throw pillows for some contrast or camouflage for a seamless look, and you've got a chic, comfortable room for a good night's sleep. 
Multi-Hued Curtains
Combining multiple colors and textures such as sheepskin throws, copper fixtures and multi-hued curtains makes a room both cozy and cool. Opt for colorful and loose curtains to make your space feel laidback yet modern and unique.  
Dramatic Drapes
Thick, tall velvet drapes make a space feel sophisticated and bold. From moody reds to dark jewel tones like navy or emerald, you're sure to deliver a dignified sense of drama with this look. Stretching your curtains from floor to ceiling can also make your room feel larger than it is.
Tie-Up Shades
Tie-up shades can polish any space. Create an elegant or eclectic room with this soft and romantic window treatment.
High Ceiling Curtains
More and more homeowners are hanging their curtains at the highest point possible to make their rooms feel taller. Curtains that begin above the windows provide a fuller, more spacious feel, making the higher ceiling trend an essential hack for smaller spaces.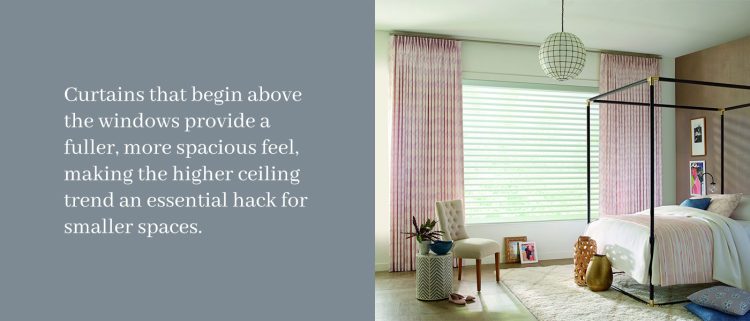 Farmhouse Shutters
Wood farmhouse shutters are both practical and attractive, allowing occupants to adjust their access to light and providing a cool, rustic feel to any room. If you have a woodworking hobby, these shutters would also make a fun DIY project for any farmhouse-style home. 
Printed Roman Shades
Roman shades are in right now. Adding a pattern to your room with printed Roman shades can make your home feel eclectic and modern. If you're hoping for a simpler look, keep your walls a neutral tone. Printed Roman shades will make any room pop. 
Short Curtains
Hang your curtains at the midpoint for a window covering treatment that's visually intriguing. The style ensures privacy while keeping things interesting and unique.
Tassel Detail Curtains
Curtains with tassel details add a playful or boho look to any space. Create a fun area with lots of color, texture and patterns. Use your fringed drapes to play off classic prints in any room of the house.
Smart Blinds & Shades
With rapid technological advancements, we now have smart blinds that you can control via your smartphone. Smart blinds are also available in various styles and color options to complement your personal style.
Hunter Douglas window treatments, such as the attractive Designer Banded shades, come in traditional controlled options as well as with PowerView® automation that syncs to your device with a Pebble remote or smart home system. 
These automated blinds are practical, stylish and eco-friendly, as you can minimize energy consumption by integrating your smart blinds with your smart home hub. Doing so allows your smart blinds to capture data on the weather, in-home temperature and more. 
Schedule a Free In-Home Consultation Today
Whether your goal is to accentuate a gorgeous window, control your lighting or insulate from the elements, choosing the right window covering treatments is essential. The window covering trends of 2022 includes all these features and more, and you can find a variety of options at Shutter & Shade Shoppe. 
We provide custom designs, free in-home consultation and high-quality and cost-effective options. Our experienced team will take your window measurements, offer design recommendations and ensure a clean and flawless installation to create your dream space. 
Contact us today to learn more about our process or to schedule a consultation.