Are you preparing to welcome a new baby into your life? Setting up your baby's nursery is one of the sweetest, most exciting activities on your to-do list. There's much to think about, including window treatments. Windows are a source of natural light and an important part of any room, so the curtains, blinds, shutters or shades you use to cover them will be a focal point, too. You'll want your window treatments to be aesthetically pleasing and complementary to your style while being safe and functional. We've put together a list of dos and don'ts to help you choose the best and safest window treatments for your baby's nursery.
Don't DIY Your Nursery Window Treatments
Once you've painted the nursery and set up the crib, you may be tempted to take on window treatments yourself. However, it's all too easy to improperly measure your windows, resulting in window treatments that don't fit. To avoid frustration and wasted time, we advise against putting nursery window treatments on your DIY list. 
Do Hire Professionals
Hire a window treatment expert to help you explore nursery window treatment ideas. A professional will accurately measure your nursery windows and install safe window treatments that provide the perfect amount of light, privacy and functionality. 
Don't Sacrifice Privacy
Your baby's nursery is a sacred space. You'll want window coverings that provide privacy during tender moments, such as feeding, dressing and rocking your little one to sleep. 
Do Embrace Natural Light
Natural light works wonders for helping establish your baby's sleep and wake cycle. The vitamin D in sunlight is also a natural mood booster, perfect for those early morning feedings when you haven't had much sleep and need a pick-me-up. A professional window treatment company can help you choose window coverings that allow you to invite sunshine into your baby's nursery. 
Don't Disregard Safety
Safety is always the main priority when it comes to baby products. However, it can be easy to overlook potential safety concerns in the mad dash to prepare the nursery for your baby's arrival. 
When choosing window treatments, it's best to avoid long drapes that pool on the floor. Babies can pull or climb on them as they grow and explore their surroundings. You'll also want to avoid blinds with long cords as they can pose a strangulation hazard. 
Window treatment experts can help alleviate pre-baby stress by ensuring your nursery windows are safe.
Do Choose Safe Window Treatments
The best curtains for nurseries are short and out of reach of little hands. Tie any long cords up and away from the ground. You can also purchase a safety device that controls cord access, or go with blinds that feature breakaway cords designed to break when under stress. 
Shutters are another safe choice for nurseries as they are sturdy and help stabilize the interior climate. 
Here are a few more safety tips:
Position cribs, furniture and toys away from windows and cords. 
Don't use tension rods — they aren't sturdy enough to withstand an infant's curious tugs.
Don't use curtains with beads or other embellishments. They can pose a choking hazard if they become loose. Instead, opt for embroidery, fun prints or rich textures to add flair. 
Don't Disregard Functionality
Window treatments wear many hats in your home. In addition to adding aesthetic value, the right window coverings can provide insulation and protection from the sun's harmful UV rays. Consider what you want your nursery window treatments to accomplish when weighing your options. A window covering shop can help you determine what's most important in your nursery. 
Do Consider Style and Design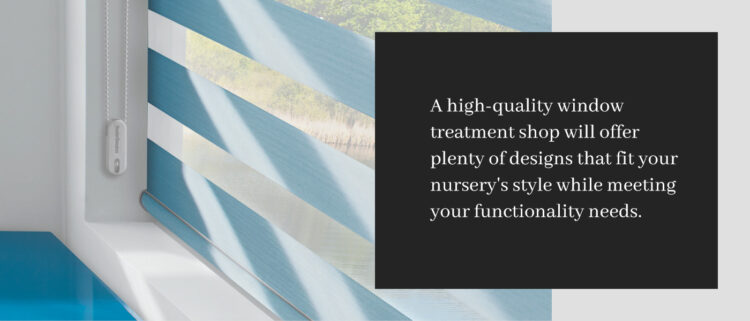 The best window treatments combine functionality with style. A high-quality window treatment shop will offer plenty of designs that fit your nursery's style while meeting your functionality needs.
Choose a fun pattern or color for your window treatments to add to your decorating theme. You can match your window coverings to the nursery bedding and wall art for a cute and cohesive design. 
Don't Hang Curtains Right Above the Window
Drapes that attach to the wall directly above the window frame can diminish the window and block more sunlight, making your nursery appear small and crowded. If you're already working with a small nursery, you likely want it to appear open and airy. 
Do Hang Curtains High and Wide
Curtains visually reduce the width of your windows, covering a significant portion of glass even when they're open. For a more spacious look, go with wide-paneled drapes and hang them at least 12 inches above the window frame. You can also try extending your curtain rod out a couple of inches on each side of the window to open up the space even more. 
Don't Go Overboard
Too much of anything is usually bad, and window treatments are no exception. Bulky, oversized nursery window curtains or blinds can make the room appear small and dark when you want it to be bright and inviting.
Do Layer Window Treatments
Don't feel as though you have to choose one type of window covering. Play with style by layering two! You can combine shades or blinds with curtains or a valance. Valances cover the uppermost part of the window and are a popular choice for concealing window treatment hardware. 
Layering window coverings allows you to further customize the amount of light your nursery receives. More window treatments also mean more insulation, an advantage if your nursery tends to be drafty.
A window treatment professional can guide you in choosing layered window coverings.
Don't Settle for Standard Plastic Blinds
With so many nursery window treatments to consider, you may become overwhelmed and decide to go with something basic like horizontal plastic blinds. However, plastic blinds can break and discolor easily, and they don't add much to your nursery in terms of style. 
Do Consider Roman Shades
Roman shades are a great alternative to plastic blinds. Relatively inexpensive, Roman shades slide up and out of sight during the day to let in plenty of sunshine. Opt for a thick, light-blocking design to pull down when it's time for your baby to rest. 
Trust Your Nursery Window Coverings to the Shutter & Shade Shoppe
The Shutter & Shade Shoppe is a window covering company providing custom designs and unbeatable service and satisfaction to Southern and Central California. We offer a range of quality, affordable shades, shutters and drapery for your nursery and every other room in your home. 
Contact the Shutter & Shade Shoppe for more information or to schedule a free in-home consultation. We can't wait to help you make your home your favorite place to be.