Custom Barn Doors in Orange County
Whether you're looking for a new door, need to portion off a room or want a stylish home upgrade, a sliding barn door provides the perfect solution. At Shutter & Shade Shoppe, we are your local custom provider and premier source for interior custom barn doors that embrace form, function and style. Let us show you how we can make your home more visually appealing and easier to navigate.
What Are Sliding Interior Barn Doors?
Barn doors are sliding doors that you can install in any room or hallway to transform the area. They are the perfect solution for regaining space lost to traditional doors and ideal for overcoming design challenges in tight spaces. With the right materials and professional installation, they can also add value to your home.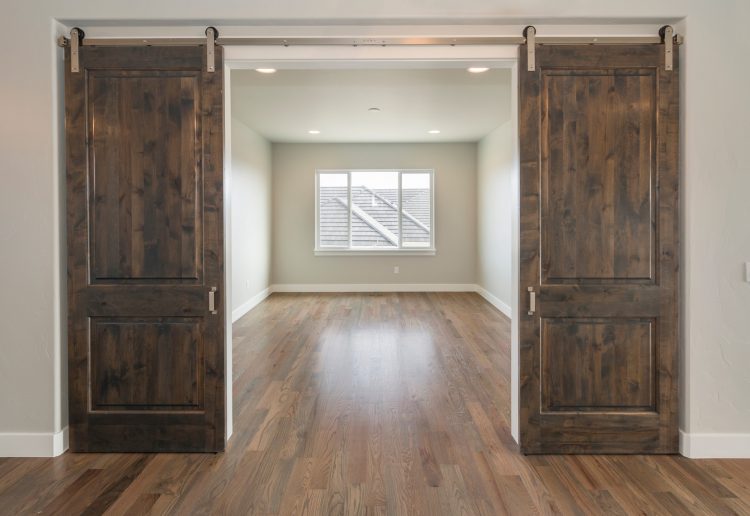 What Are the Benefits of Installing Custom Barn Doors?
Interior barn doors are charming home upgrades that complement a wide range of architectural styles and home decor. These versatile products are popular home additions. There are multiple reasons to consider installing them in your space:
Ease of use: Sliding barn doors are easy for virtually anyone to operate, including children and older adults. They open and close using a gentle push and glide quietly along the rails, then remain in place until pushed again. We can also design yours using lightweight materials to make them even simpler to use.
Appeal: Adding custom barn doors in the kitchen, your bathroom, a bedroom or any part of your home gives your space an attractive decorative upgrade that will last for years. You can customize your door and the hardware to create a perfect matching or contrasting accent you and your guests can appreciate.
Versatility: Barn doors mount using a sliding rail system. They open from side to side while hugging the wall, unlike a hinged door that opens into a room. As a result, they are perfect dividers for sectioning spaces off. They can also function as partitions for concealing electronics and other items. Barn doors make excellent replacements for doors currently mounted on hinges as well.
Our custom barn doors also come with the additional advantage of a soft-close mechanism — a feature you won't find on DIY solutions. This upgrade makes the doors easier to open and helps ensure they glide to a smooth stop regardless of how hard they're closed. You'll enjoy quieter operation. The mechanism will also make sure your doors stay on track, protecting them, their hardware and your home from any potential damage.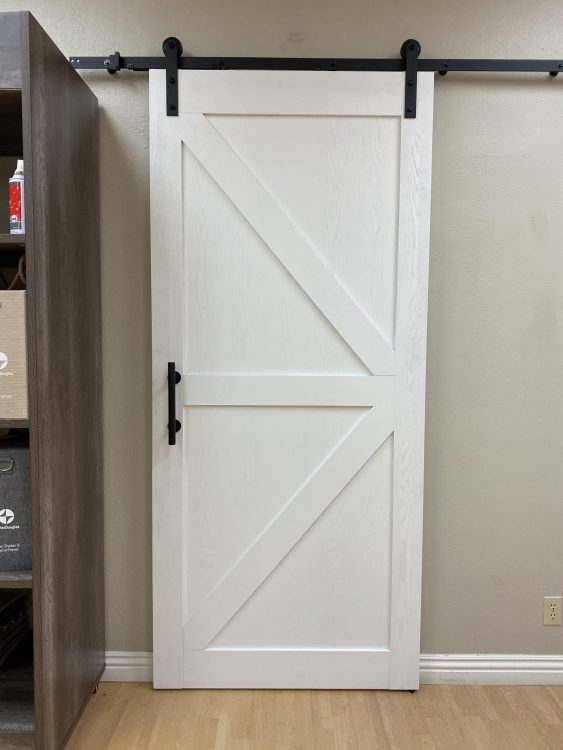 Create Your Ideal Barn Door
Shutter & Shade Shoppe is a premier provider of custom sliding barn doors in Orange County. We are your home for a wide variety of styles, colors and hardware options, and all our products are made using quality materials. They're also backed by excellent warranty protection, including a limited lifetime warranty on the door and a lifetime guarantee for the hardware. 
Enjoy a Simple Ordering Process
We deliver products and services designed with your satisfaction in mind. Our experts will help you create a solution that fits seamlessly into your floor plan by providing you with superior service from start to finish.
1. Request an In-Home Consultation: Our in-home consultations are a free service we provide to help you select the right style and color door for your home. You can leave all the measurements to us.
2. Approve Your Design: After your consultation, one of our team members will provide the final estimate. If you're satisfied, give us your approval. We'll start your build right away.
3. Enjoy Professional Installation: We strive to maintain short lead times. As soon as your interior barn doors are ready, we'll set up a time when our team can take care of the installation for you.
Order Custom Interior Barn Doors in Orange County
Contact us today using the form below to get started designing your custom sliding barn doors. You can also set up your free in-home consultation by calling 949-600-9880.